Online photo editors offer a quick and effective way to edit images and allows the everyday person to take their photos one step further without having the technical knowhow that a photographer would.
Today we are sharing 10 online photo editors for all of your quick fix photography needs.
PIXLR
Pixlr is an online photo editing service that offers numerous editing tools and effects Not only can you quickly edit and add effects to your photos, you will also be able to create your own images using the many paint tools – and it's all available directly on the tool bar. It can be used on PCs, and on smartphones or tablets using an app. "Time" put Pixlr on its list of the top 50 websites of 2013.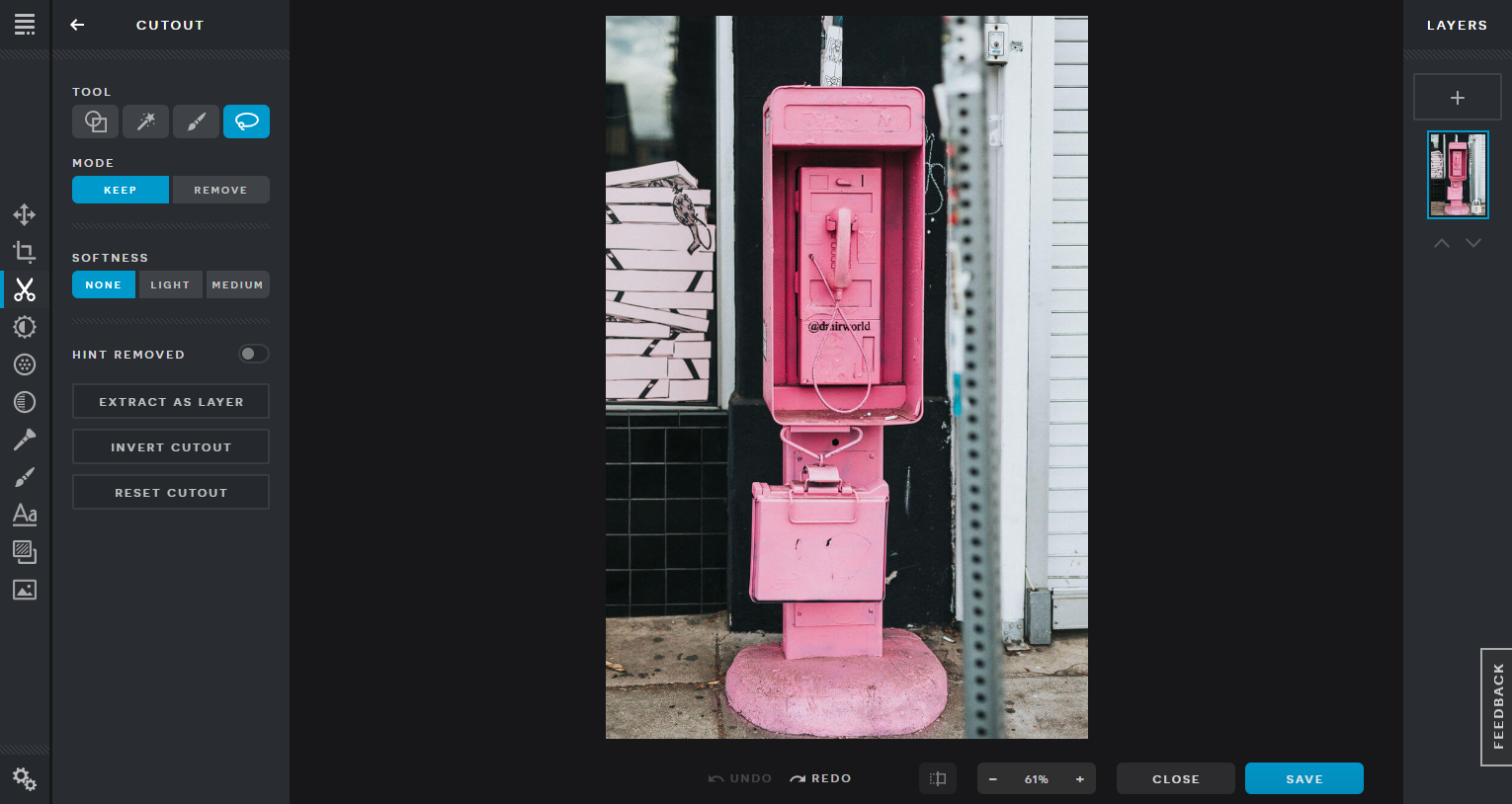 Pros:
100% Free
Pixlr allows you to upload images from various locations
More of 20 languages
Images can be saved in various formats and to various locations including Facebook
Registration not required
Cons:
Pixlr Editor requires basic editing knowledge
Pixlr Express and Pixlr-o-matic appear to be more limited in what you can do as well as output options
PICMONKEY
PicMonkey is a simple online photo editor that can handle many kinds of complex edits in just a few clicks. You might even use it instead of Photoshop because it gets the job done so quickly.
PicMonkey is free and doesn't require a log in, so you can just visit the site and drag an image into the drop zone to get started. It'll upload and you'll see it on a big, wooden platform with a bunch of options to your left. You'll start out with basic touchups like color, tone, brightness, contrast, and other similar adjustments, but can move on to frames and color effects when you're ready. You can also fix skin blemishes, reduce red eye, remove wrinkles, put on a spray tan (weird!), and perform several other common touch-ups. Although PicMonkey is not a layer-based editor, you can overlay images and text.
Pros:
Easy to use
Offers features such as blemish removal and basic color correction
No registration required to use the free features
Cons:
Not 100% free (premium version)
BEFUNKY
BeFunky is a photo editing application for mobile devices and web platform. The application allows users to edit and apply effects and frames to an image file. Users are able to save their edited photograph to social media locations, including Facebook, Twitter, Flickr, Tumblr, and the BeFunky gallery.
BeFunky offers special effects such as sketch, pinhole, oil painting, cyanotype and pop art. The application also allows users to choose from frames, borders and goodies.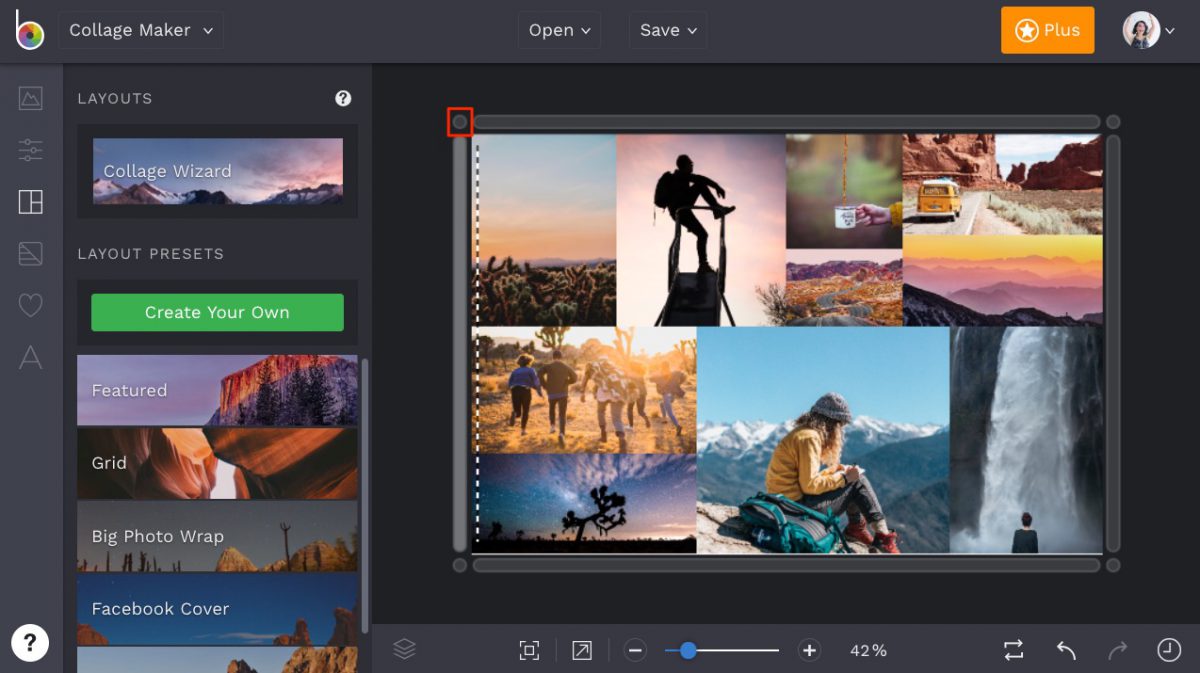 The BeFunky photo editor is available to the public through the developer's website and in mobile app stores such as the iTunes App Store and Google Play and supports mobile platforms and devices such as the iPhone, iPad, iPod Touch, as well as Android phones and tablets
Pros:
You can upload your photos from various areas including your Facebook
You can share and explore photos
Simple to use
Cons:
No full screen with the free plan
Extra paid features
No High-Res output
RIBBET
Ribbet is a fully featured online photo editor and collage maker. With nothing to download or install, you'll be creating your collage in just a few moments.
Fix your photos in a single click
Fine-tune your results with advanced controls
Crop, resize, and rotate in real-time
Tons of special effects, from artsy to fun
Astoundingly fast, right in your browser
Awesome fonts and top-quality type tool
Pond-fulls of shapes from hand-picked designers
Works on Mac, Windows, and Linux
No download, installation or sign-up required
.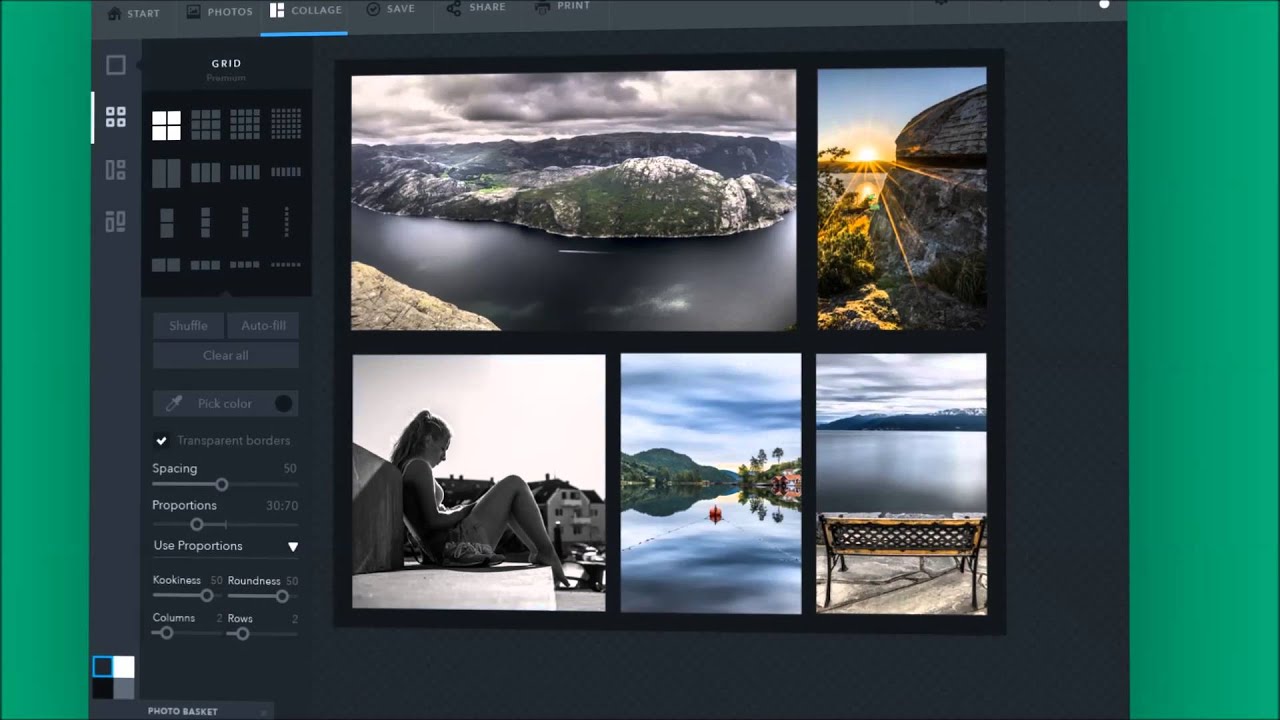 Pros:
One-click effects
Various amounts of effects, borders, fonts, etc. for use
High Resolution image output
Simple layout
Cons:
Premium features though currently free can only be used by those with a Ribbet account
CITRIFY
Citrify provides quick photo editing directly inside any web browser that runs Adobe Flash.
The photo editing tool allows for fast uploading from the user's hard drive, where many tweaks can be run, mostly using sliders.
Brightness and contrast can be adjusted, as well as hue, saturation and sharpness.
Citrify also includes touch-up features like wrinkle and blemish removal and the all important ability to fix red eye.
There are also a couple of effects filters like sepia, water colour and the now famous "Hope" effect from the Obama campaign posters.
Unique to Citrify are "stickers," which allows the user to plant a kiss on a photo or add colourful wigs to the subject.
Citrify was created by a two-person team in Ottawa referred to on the company website as the "Code Monkey" and the "Marketer."
The company also provides a Facebook app and a premium version of Citrify with extra features.
Pros:
Cons:
Launches in a separate window
IPICCY
iPiccy is a completely Web-based photo editing and sharing application to give users everywhere the ability to quickly and easily edit, enhance, share and print all of their photos from any Internet browser.


Pros:
Functional and easy to use
Offers basic to advanced editing
Has a lot of interesting effects
Cons:
To enable Local Storage you must grant iPiccy permission to store images to your hard drive.
FOTORAM.IO
FOTORAM.IO, is a powerful editing tool and photo manager. With the features professionals use and novices want, it's easy to use, works in real-time. It runs in all browsers, and has its own effects pack.
Pros:
Sleek interface
A lot of effects
Cons:
Opens up in a new window
Few options
PHOTOSHOP EXPRESS
Adobe's Photoshop Express is a little app that packs big fun into every photo you take with your smartphone or tablet. Use easy editing options to fix flaws in a flash. Add some creative juice with eye-catching filters and effects. And share in seconds via email as well as Facebook and other favorite sites.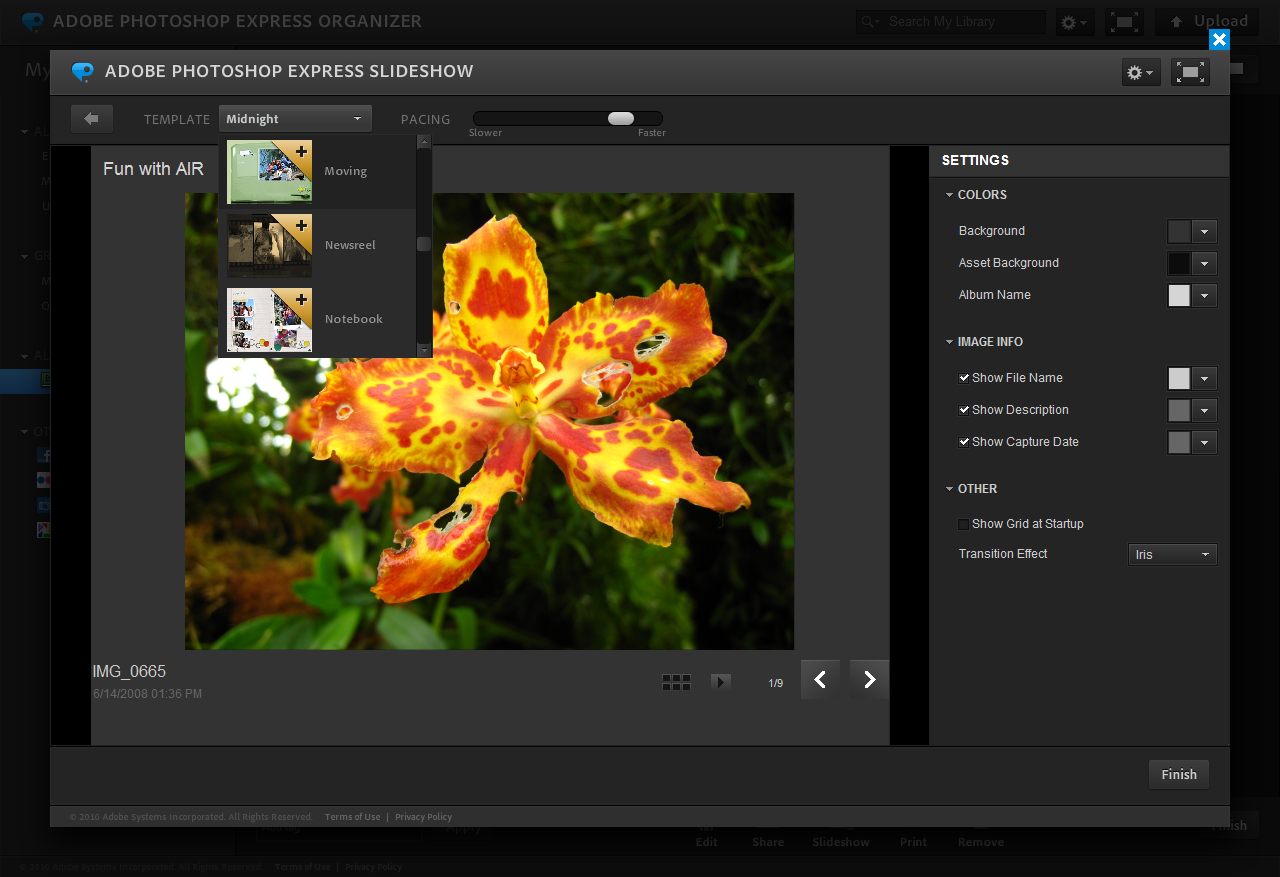 Pros:
Easy to use and learn
Simple and functional interface
Sharing capabilities
Can view the original edit
Cons:
Editor loads in a separate window
Only supports jpeg images
Handful of Effects
PICFULL
Picfull is a new service that makes it incredibly easy to customize and filter photos in real time, then share it with friends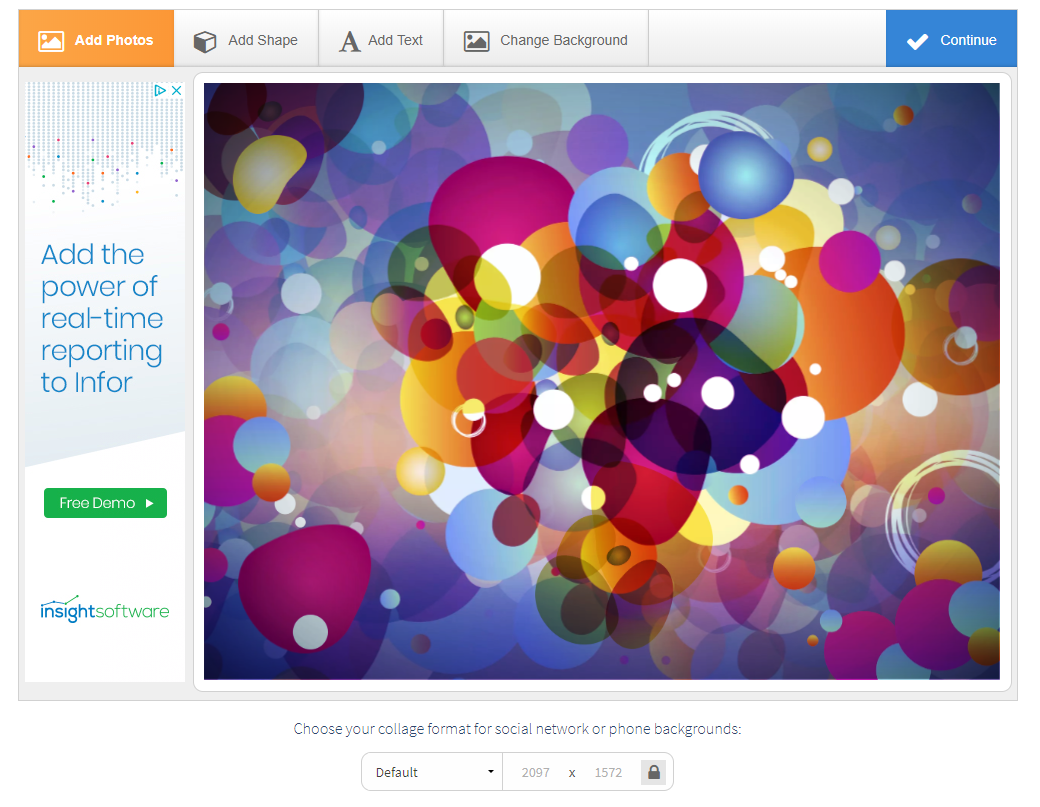 Pros:
Lots of effects to choose from
Really simple interface
Cons:
Can only add effects, no basic editing abilities
Saving takes some time
FOTOR
Fotor is a nice photo editor that is coupled with a basic layout and functional navigation menu. You can create photo collages, photo cards and you can even add HDR to your images. Fotor is truly user friendly and most of the features can be applied by one click and then adjusted to your preferences..



Pros:
Can compare the original with the edited
Full screen capabilities
No registration required
Access the fonts on your computer
Cons:
Can't adjust size of the borders
Special mention: Take a look at Canvas - Free Photo Editor

Janeth Kent
Licenciada en Bellas Artes y programadora por pasión. Cuando tengo un rato retoco fotos, edito vídeos y diseño cosas. El resto del tiempo escribo en MA-NO WEB DESIGN AND DEVELOPMENT.
Related Posts

There are many people today who only use the following for design purposes Canva as it is a really popular software and website and there is no denying that it…