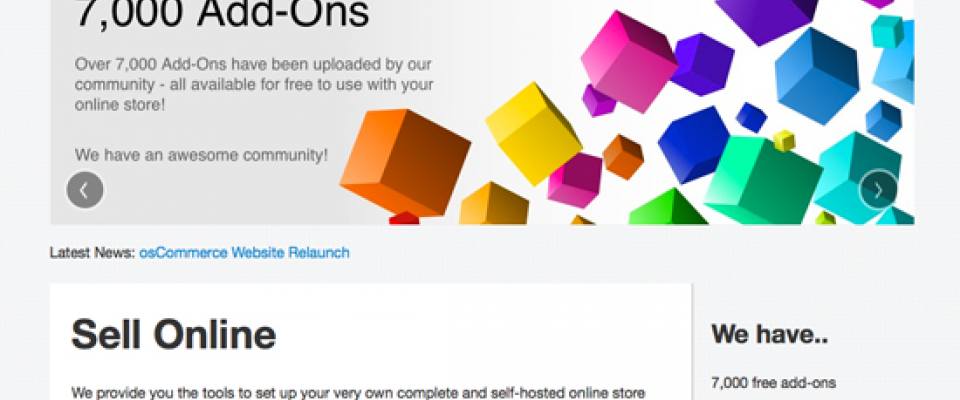 There are many ecommerce platforms in the market. Some are free platforms and some are paid platforms. The main factors which you have to consider while choosing ecommerce platform is the price, useful functions, user friendly and with strong merchandising tools.
Each platform has its own set of pros and cons and has been designed with a slightly different user in mind.
Take note: installing any platform is easy, but uploading products, customizing your store, and adding store features can be very time consuming. Make sure to give several platforms a try before making a final decision in integrating it into your website.
To make it easy for you, we've listed the top 10 free open source ecommerce platforms: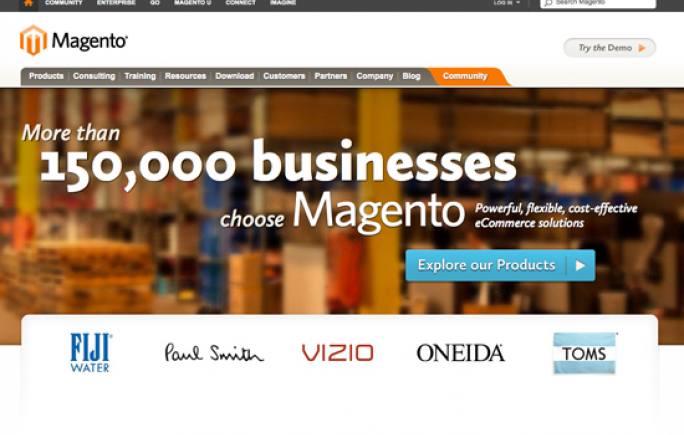 "Magento is a feature-rich, professional open-source eCommerce solution that offers merchants complete flexibility and control over the look, content, and functionality of their online store. Magento's intuitive administration interface contains powerful marketing, search engine optimization and catalog-management tools to give merchants the power to create sites that are tailored to their unique business needs. Designed to be completely scalable and backed by an extensive support network, Magento offers companies the ultimate eCommerce solution."
That's Magento in their own words. Very cool about Magento is the concept behind it. Due to its high OOP style, you can
easily integrate it with your own solutions.
This ecommerce software helps small business websites. Magento offers many free extensions and have very good SEO functions. It helps you build a powerful online store for your products and services. There is also a paid version, Magento Go.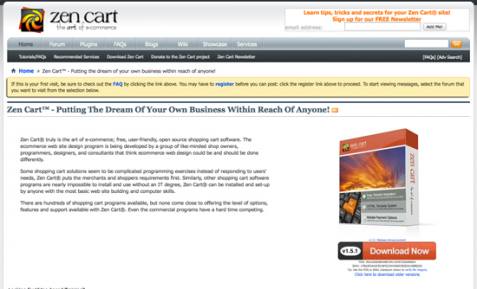 Zen Cart is free, user-friendly, open source shopping cart software that can be used to create an online store for the sale of both physical and downloadable products.
The main features of Zen Cart are:
easy to install
scalable to support tens of thousands of products
extensive product management tools
support of multiple currencies
support of multiple languages
multiple payment, shipping and tax option modules installed by default
wide variety of options for sales, specials and discounts
in-built customer communication and marketing tools, and
a template system that gives you complete control over your online store's look and feel as well as product catalogue and shopping cart functionality.
As they say: "Zen Cart Ecommerce – putting the dream of online business ownership within reach of anyone!"
The source code of Zen Cart is distributed under the GNU (General Public License). In essence, this gives anyone the right to modify the source code to suit their needs. More information on the GNU GPL can be found at http://www.fsf.org/licensing/licenses/gpl.html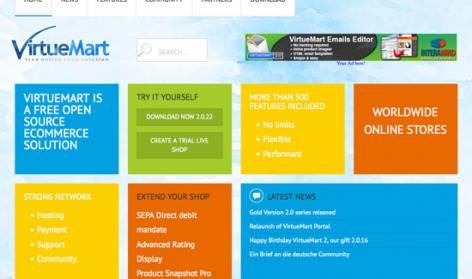 VirtueMart is a complete eCommerce solution.
It must be used together with the Content Management SystemJoomla!. Both are released under the GNU General Public License, which means by the end, they are free for download and use. Joomla! and VirtueMart are written in PHP and made for easy use in a PHP / MySQL environment. All you need is to download the latest Joomla distribution from www.joomla.org and the VirtueMart package from this site. Joomla provides the Core System and the Framework, which VirtueMart can use. So you can easily use a complete Shopping Cart Solution within your own dynamic Website ("Portal"), together with many other Plug-Ins, called Components and Modules, like Forums, FAQ, Guestbooks, Galleries........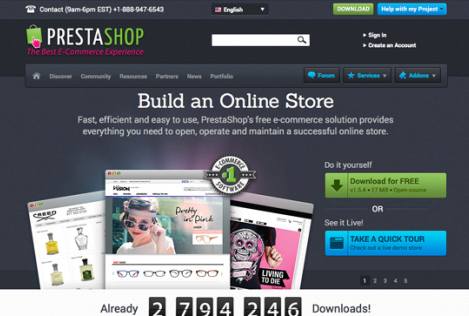 PrestaShop is a free, open source e-commerce solution. It supports payment gateways such as Google Checkout, Authorize.Net, Skrill, PayPal and PayPal Payments Pro (Direct) via their respective APIs. Further payment modules are offered commercially.
PrestaShop is available under the Open Software License and officially launched in August 2007. The software, which is written in PHP and based on the Smarty template engine, is currently used by 135,000+ shops worldwide. MySQL is the default database engine. PrestaShop is the winner of the 2010 and 2011 Best Open-source Business Application awards.
Features include:
• Easy catalogue management(inventory, product export, cross selling, etc)
• Attractive product displays(multiple images of products, product reviews, etc)
• User-friendly site management(full custom designs, performance management, etc)
• SEO tools
• Various options for shipping and payments,
• Translating tools
• Powerful security
• Analytics with reports.

Opencart is a powerful open source platform with thousands of themes to choose from. This platform is very user friendly with a visually appealing interface.
OpenCart is designed feature rich, easy to use, search engine friendly and with a visually appealing interface.
Features include:
Unlimited Categories
Unlimited Products
Unlimited Manufacturers
Multi Currency
Multi Language
Product Reviews
Product Ratings
Open Source
Free Documentation
Templatable
Automatic Image Resize
20+ Payment Gateways
8+ Shipping Methods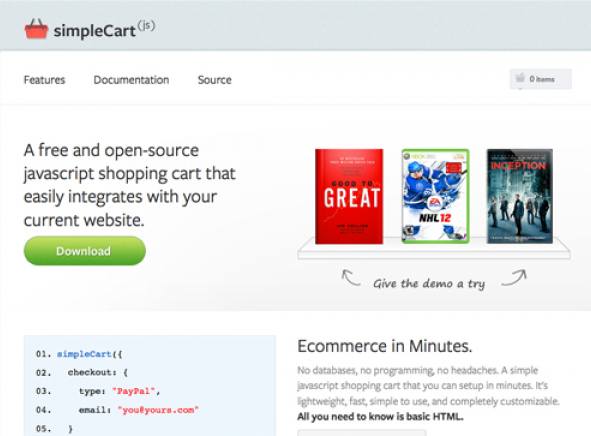 Simple Cart also works with google checkouts. In the new version you can have the option to modify your cart options and modify HTML tags. By using this platform, there is no need for any separate database. Setup of this platform is very simple. With the basic knowledge of HTML, you can setup your shopping cart in minutes.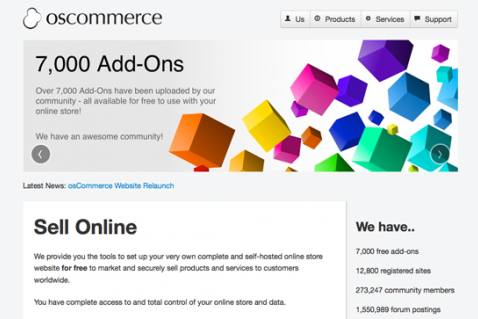 OsCommerce is an open source ecommerce software. OsCommerce is an online merchant software which is totally a self-hosted platform. With over 7,000 add-ons, this platform gives you the opportunity to create your store in the way you like. Also osCommerce offers free payment processing for 3 months!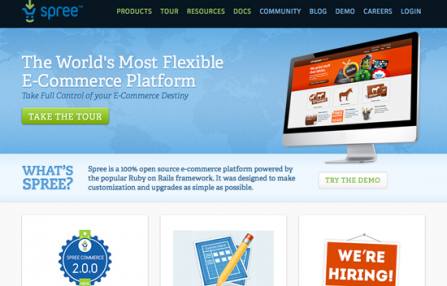 Spree Commerce (also known as Spree) is an open source e-commerce solution based on Ruby on Rails. It was created by Sean Schofield in 2007 and has since had over 350 contributors. On July 1, 2011, Spree received $1.5 million in seed funding from AOL and True Ventures. Companies using Spree include Chipotle Mexican Grill (NYSE: CMG), and Second Life. Spree has been downloaded 179,299 times as of March 21, 2013.
Afcommerce is a front end and administration control ecommerce platform. The platform allows you to create unlimited web pages, multiple design layouts, one page checkouts, secure administrative area, unlimited categories , multiple currency switcher, etc.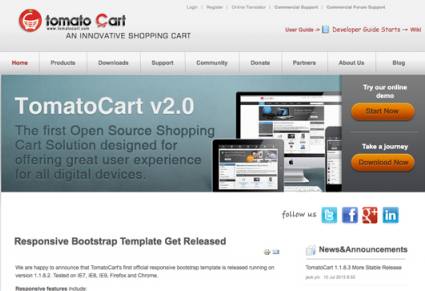 Tomato Cart is an entirely different version of open source ecommerce platform. This platform uses bootstrap responsive CSS framework.
Some of the main features include:
• Grid layout for featured products
• Web analytics
• SEO tools
• Different drop-down menu styles
• Multiple shipping options and guest checkouts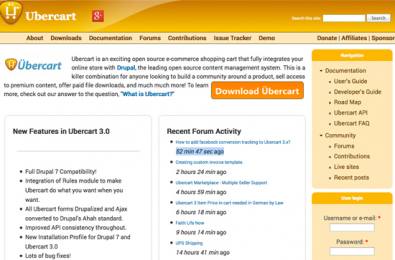 Ubercart uses Drupal as content management system. This platform is useful if you want to sell access to premium content, paid file downloads, etc.
Some of the main features include:
• Full integration of the store with the main website
• More flexibility in managing the store
• Single page checkout
• Integrated payment system
Some of the popular sites using this platform are Promo-Tech, 123 Vector Maps, Livie & Luca and UPC Exchange.

Janeth Kent
Licenciada en Bellas Artes y programadora por pasión. Cuando tengo un rato retoco fotos, edito vídeos y diseño cosas. El resto del tiempo escribo en MA-NO WEB DESIGN AND DEVELOPMENT.
Related Posts
In recent years, the digital advertising industry has been undergoing significant transformations. One of the most impactful changes is the impending demise of third-party cookies, which could potentially diminish marketing…