Instagram is quickly becoming a favorite social media channel among eCommerce business owners because of its high engagement rate.
But when it comes to getting the highest return on your investment, that recognition belongs to email marketing.
Now, imagine what will happen to your eCommerce business if you can have a way to promote your products to your potential customers even if they don't log in to Instagram?
Think of how much sales you'll recover if you can reach out to those who abandoned their shopping carts and remind them to complete their purchase?
Do you like what you see?
If you're answer is "yes," you're in luck because that's what you'll learn in this blog post.
1. Set up your landing page.
The first thing you'll need to build your email list is to create a landing page where you'll direct your Instagram followers to sign up.
Your landing page doesn't have to be fancy, but it does need to have four elements in place:
An enticing offer
Your followers won't give away their email addresses to just anyone unless they're given an excellent reason to do so.
That's why it's crucial you give them something they'll consider extremely valuable that you can quickly deliver.
Compelling copy
Copy refers to the text that you include on your landing page.
The copy should be comprehensive enough that your followers understand what they're going to get in exchange for their emails.
At the same time, it should be concise so that you keep their interest up and get them to take action.
Your opt-in form
This is where your Instagram followers would type in their email address other information about them that you request.
As a rule of thumb, keep your opt-in forms as short as possible. Nobody enjoys filling up forms, to begin with.
Also, your Instagram followers may find your opt-in form too intrusive if you ask for a lot of details right away.
This would give them a perfect reason to think twice about signing up.
Call-to-Action
This is the button on the landing page that'll tell your followers what they should do next.
Baron Fig's landing page shows how the landing page looks like when all these elements are put together.
2. Add a pop-up to your product page.
Most email marketing providers like Mailchimp and ConvertKit allow you to create pop-ups that you can display on different web pages on your eCommerce site.
This gives you more opportunities to capture your followers' email addresses and add them to your email list.
For example, say you're using shoppable posts to promote your products on Instagram.
You can add a pop-up to the item's product page on your site so that it will show up once they click on the View on Website button.
The key when using pop-ups to build your email list is to make sure that the offer is relevant, like a gift card or an additional discount for their first purchase.
Not only will this encourage them to sign up to your email list, but also get them to buy more from your online store.
3. Link your landing page to your Instagram profile.
Instagram only gives you one clickable link. This is located on your profile.
Ideally, this should be where you add the link to your landing page.
Unfortunately, this poses several challenges for eCommerce business owners.
For instance, what if you're running a Clearance Sale, and you're planning to send your Instagram followers to this page on your eCommerce site?
Or perhaps you've joined an affiliate program, and you've been using the link in your Instagram profile to drive traffic to that site?
The solution is that you can sign up for a third-party tool like linktr.ee. This allows you to expand the number of links that you can add to your Instagram profile.
Once you've signed up for a lnktr.ee account, you'll be given a unique link to add to your Instagram profile.
When someone checks out your profile and click on the link, they'll be taken to another page where they'll see a list of links to different pages on your site.
4. Schedule your Instagram posts in advance.
Recently, Facebook announced that it had integrated Instagram into the Creator Studio.
This is a welcome upgrade because it addresses two of the biggest challenges online entrepreneurs face when it comes to promoting their products and maintaining a strong presence on Instagram.
First, you can now create and upload Instagram posts directly from your desktop.
Second, you can now schedule when your posts will be published in advance.
After you connect your Instagram account with your Facebook Business page, click on the Instagram icon on the top part of the Creator Studio dashboard, and then click the Create Post button.
After filling in your caption and hashtags, click on the down arrow on the lower right corner of the dashboard and select Schedule to set your post's publish date and time.
The key here is to know when to publish your posts on Instagram.
Studies show that the best day and time to publish on Instagram is on Wednesday between 11 AM and 1 PM and again between 7 PM and 9 PM.
These, however, are not set in stone.
That's because it depends where you're based and the behaviors of your target market.
You can check your Instagram account's Insights to get a better understanding of what's the best day and time to schedule your post.
Click on the three lines on the upper right corner of your Instagram profile.
Then select Insights in the menu options.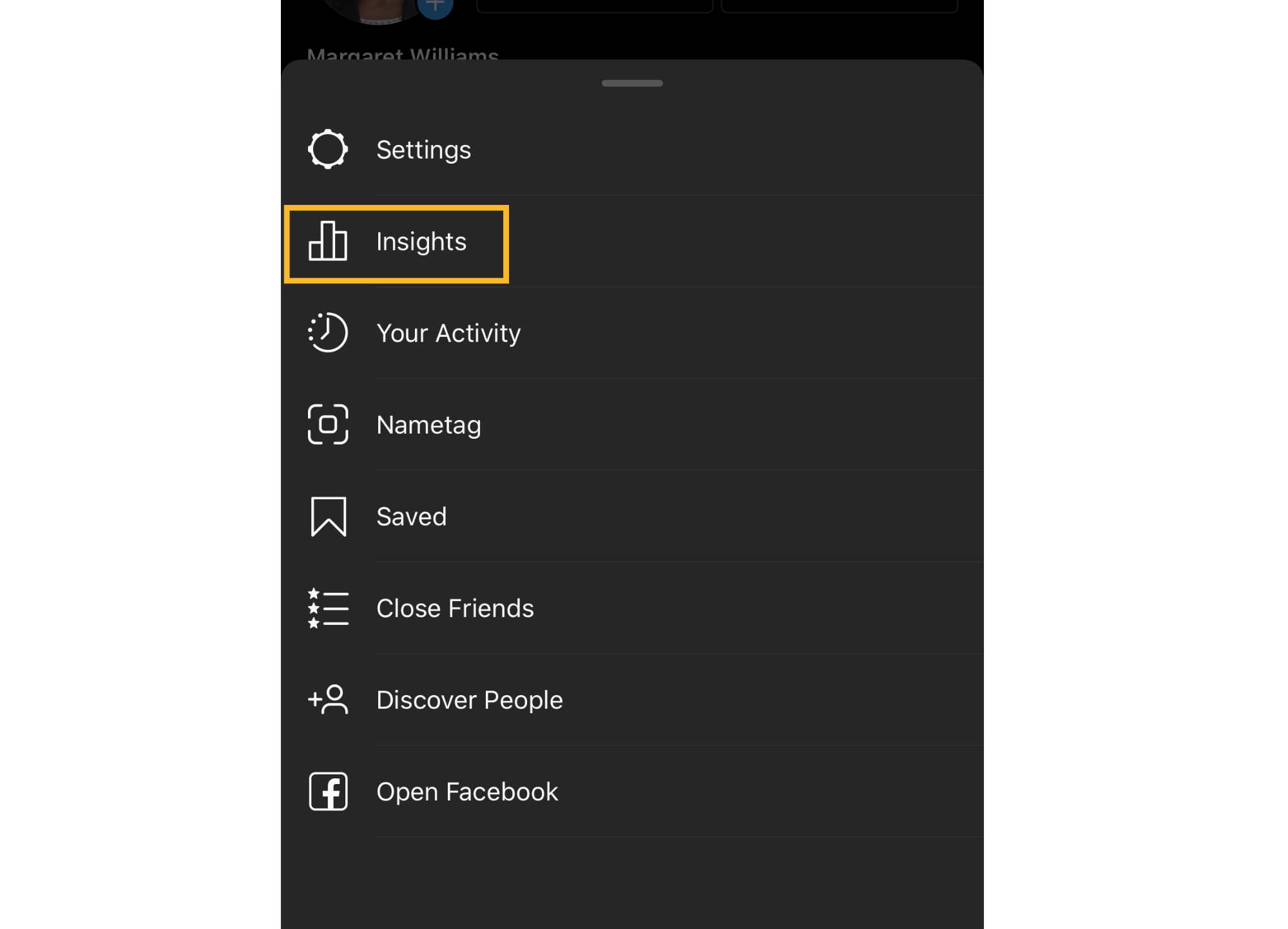 Take note that this feature is only available for Instagram Professional accounts. So make sure you that this is the account type you're using.
If you're not sure, you can check this under the Account options in your Instagram Settings.
5. Automatically send out a welcome email.
You've piqued your followers' interest enough for them to subscribe to your email list. Now you need to keep their interest level with what you have to offer high.
Sending out a welcome email the moment that they subscribe will help you keep their interest levels up.
It also opens the door for you to build a relationship with them so that they'll become repeat customers.
6. Track and monitor your results.
As with any marketing campaign, you'll need to make sure that you carefully track both your marketing and eCommerce analytics.
These will help you check everything from whether you're publishing your posts at the right date and time and if your offer is enticing enough for your Instagram followers to subscribe to your email list.
The analytics will also help you keep track of your inventory so that you can find out which items are quickly moving than the rest.
You can then create campaign to send to your email list and Instagram followers to push those slow-moving items to avoid wastage.
Grow your eCommerce business by combining Instagram and email marketing.
By themselves, Instagram and email marketing can help your eCommerce business grow and generate sales.
But if you combine them, the growth and success you'll experience will be exponential.
The best part about these tips is that you can do all of these without adding to your overhead expenses.
So give them a try and let us know how it goes by sharing about it in the comments below.

Luigi Nori
He has been working on the Internet since 1994 (practically a mummy), specializing in Web technologies makes his customers happy by juggling large scale and high availability applications, php and js frameworks, web design, data exchange, security, e-commerce, database and server administration, ethical hacking. He happily lives with @salvietta150x40, in his (little) free time he tries to tame a little wild dwarf with a passion for stars.
Related Posts

APIs serve as intermediaries between software, allowing them to communicate with each other and perform various functions like data sharing or processing. APIs provide the protocols, definitions, tools, and other…