Alt17 has developed an innovative platform to measure the emotional impact in real time of campaigns, events, hashtags and Twitter users.
Twitter is traditionally the most used social network to follow broadcasts and events at the same time they are happening. Innumerable publications and messages are exchanged by its users as events unfold. It is also the one most used by personalities, both political and from any other fields, and the one that best allows interacting with official profiles.
It is therefore necessary to have tools to measure the emotional impact of the most relevant events for organisations and their objectives. This will allow them to know, at the very moment they happen, if their communication actions are successful, and correct aspects of them in the shortest possible time to optimize them.
This technology opens up a range of possibilities and services for the following user profiles:
Political communication agencies, to detect the emotional impact that debates, rallies and events.
Online marketing agencies, to optimize campaigns and make the best decisions to viralize as soon as they are launched.
Media, to measure the feeling generated by TV shows or event broadcasting.
Among the metrics that we can find in Pulsetuit stand out:
Number of positive and negative, total and relative tweets.
Percentage of men and women, total and relative.
Tweets relevance
Localization
Device type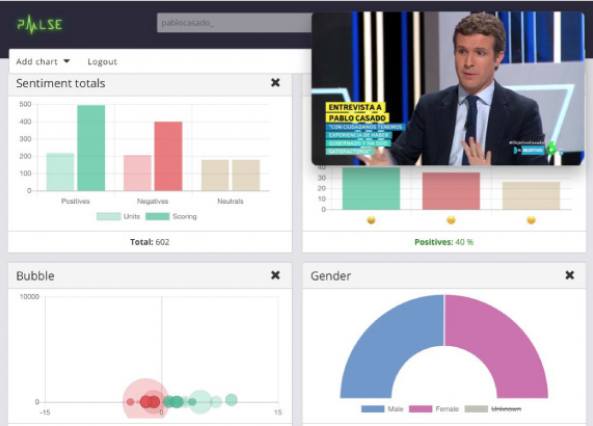 Pulsetuit is currently in a private Beta phase, and has opened a pre-registration period in order to join the trial phase free of charge.
Twitter: @pulsetuit

Janeth Kent
Licenciada en Bellas Artes y programadora por pasión. Cuando tengo un rato retoco fotos, edito vídeos y diseño cosas. El resto del tiempo escribo en MA-NO WEB DESIGN AND DEVELOPMENT.
Related Posts


We think that a combination of quick response, easy use and functionality is what a company need in order to effectively run a social media campaigns. There are many tools that…