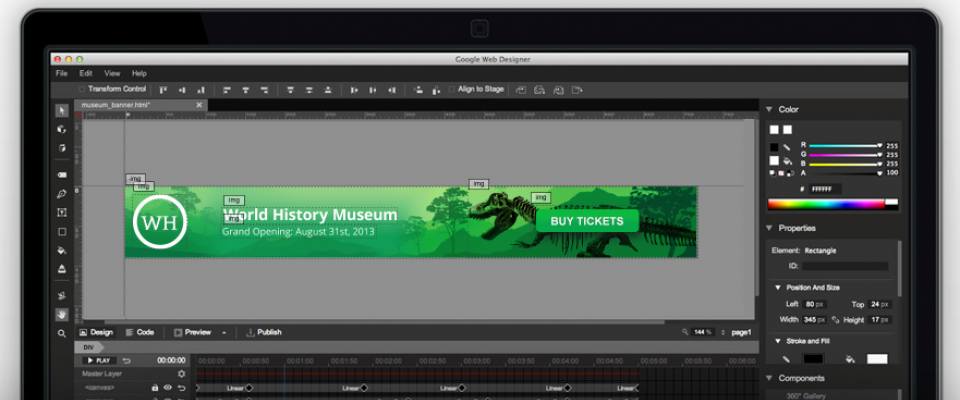 Google today announced the launch of Web Designer, a new tool for building interactive HTML5 sites and ads.
The company commissioned a research study with Illuminas to uncover the barriers that agencies face when buying on and developing for mobile platforms. The first barrier is that there are too many choices to make when developing for mobile -- too many platforms, browsers, and devices to build for, and no tools that simplify the development process.
Google team worked hard to solve this development challenge by offering agencies powerful yet easy-to-use tools for HTML5 production.
The company first hinted at this launch in June, but had been quiet about it ever since. Web Designer, which Google calls a "professional-quality design tool," is now officially in public beta and available for download for Mac and Windows.
Google Web Designer Demo
Google Web Designer enables you to:
Create animated HTML5 creative, with a robust, yet intuitive set of design tools.
View and edit the code behind your designs and see your edits reflected back on the stage automatically.
Build ad creatives seamlessly for DoubleClick and AdMob, or publish them to any generic environment you choose.
Receive updates to the product automatically, without having to re-download the application.
Access all of this entirely for free.
So, Web Designer is a visual tool, but you can also develop in JavaScript and CSS to fine-tune different aspect of your site. Indeed, Web Designer allows you to manipulate your code and lets you preview your creations.
Pen Tool Demo
Web Designer also features the ability to create 3D content using the power of CSS3, as well as a set of pre-built components for galleries, maps and embedded YouTube videos.
For animations, Web Developer features a Quick mode for building animations scene by scene.
Ready to give it a spin?

Janeth Kent
Licenciada en Bellas Artes y programadora por pasión. Cuando tengo un rato retoco fotos, edito vídeos y diseño cosas. El resto del tiempo escribo en MA-NO WEB DESIGN AND DEVELOPMENT.
Related Posts

HTML5 Canvas is a technology that allows developers to generate real-time graphics and animations using JavaScript. It provides a blank canvas on which graphical elements, such as lines, shapes, images…