With the propagation of Covid-19 we all had to adapt to a new quarantine situation at home, and since the human being needs to communicate constantly, we used the internet channel to make group calls, be it between friends or business meetings.
This has led to a rapid expansion of online videoconferencing platforms, we now have them for all tastes, and there are those who have created thematic platforms to interact with their clients, such as our collaborator Ilaria Cellura who has created an on-demand software that allows users to follow her Yoga, Pilates, etc. classes.
Others have thrown themselves on social video broadcasts, some for fun and some for work, creating real mini TV studios at home. I also dabbled having, in addition to the 1080p cam mounted on my laptop, a 720p webcam that turned out to be a rather disappointing purchase for the quality/price ratio.
A few days ago I was looking for alternatives and I started to look into the connection methods between smartphone and pc/laptop and I discovered that you can turn your smartphone into a high resolution webcam, thanks to a couple of software programs, with really amazing results.
The Software we use to transform our smartphone into a webcam
the software that allows the magic to do everything is called DroidCam and has free and premium version, but to do what we want to do the free version is more than enough.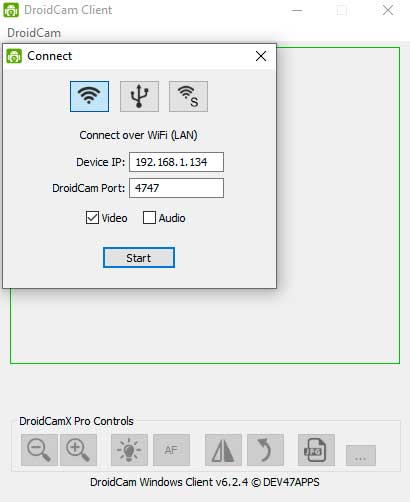 We install Droidcam Server on our martphone and the client on our pc, from the server opening the program the first thing we see is the ip of our smartphone, well, we have to copy this IP address in the setup mask of the client on our pc, and voila! We will be able to view the camera of our smartphone on our pc!
Please note that the two devices must be clearly under the same network, otherwise the client will not find the smartphone.

We turn our webcam into a professional video studio.
The second software that allows us to broadcast the video content of our smartphone like a webcam is Opern Broadcast Studio (OBS), this software is really exceptional, it allows us to mix different audio and video sources and to apply transparent images over our transmissions as if they were photoshop layers.
I'm not going to explain how OBS works, that's why I refer you to the official guide, but I want to explain how to share the camera of our smartphone as if it were a webcam.
To do this I installed in OBS the VirtualCam plugin that creates a virtual webcam from OBS.
Once installed the plugin I added the DroidCam as "Video Capture Device" to my layer, very easy, then I activated the virtual webcam. From now on I can transmit with my mobile phone's webcam directly from my PC by selecting the OBS virtual webcam.
I let you judge the result which as you can see is a mix of different video sources, so you have a semi-professional video studio at home.
I hope this tutorial can be useful to you.

Luigi Nori
He has been working on the Internet since 1994 (practically a mummy), specializing in Web technologies makes his customers happy by juggling large scale and high availability applications, php and js frameworks, web design, data exchange, security, e-commerce, database and server administration, ethical hacking. He happily lives with @salvietta150x40, in his (little) free time he tries to tame a little wild dwarf with a passion for stars.
Related Posts

You recently experienced one of the most epic concerts in recent years and now you're in the process of showing the videos you recorded to friends and family who, unfortunately,…