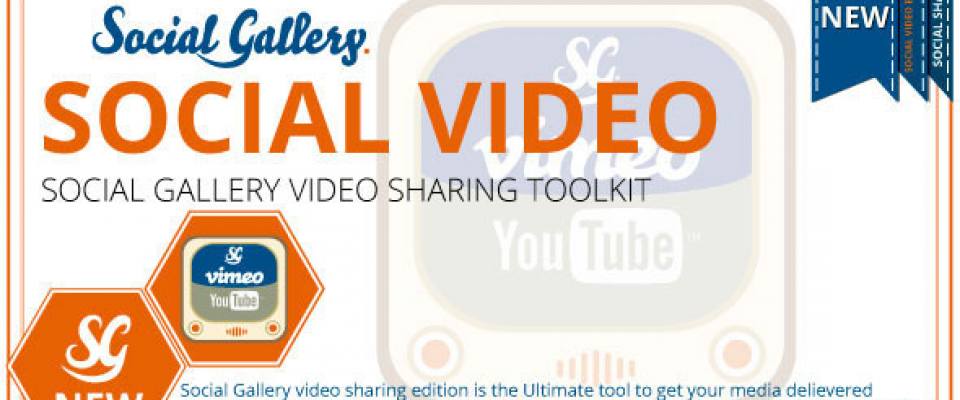 Today we are going to share Best 85 WordPress Plugins for 2013 which will help WordPress Webmasters all over the world.
1. ALL AROUND WORDPRESS CONTENT SLIDER CAROUSEL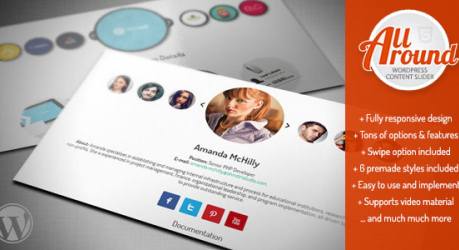 All Around wordpress content slider is a multi-purpose all-in-one slider solution for your website. It supports both images and video. It can be an easy and effective solution for your shop related website as you can display your products in an interesting and eye appealing way. All Around wordpress carousel is perfect for almost all type of websites and it can fit perfectly into all business areas. You can display your company services, personal portfolio, sport products, health services, real-estate properties, vacation/holiday offers, cooking recipes and much much more.You can adjust the content slider the way you need it or you can choose one of our 6 prepared layouts.
Download content slider carousel →
2. FRONTEND BUILDER WORDPRESS CONTENT
With its intuitive frontend and backend options it is very easy to create a unique web page. The drag & drop system make this plugin an easy-to-use solution for all users regardless of their skill level as designers or developers. On the other hand developers will find this plugin useful because they can assign this plugin to their templates with their own shortcodes and enable their potential users to design their own web pages using template's elements.Each of these elements have 5-20 options for settup so the number of variations is huge.
3. FINAL TILES GALLERY
Finally say STOP to the boring multi-column layouts! Keep images aspect ractio, create gorgeous grids with Final Tiles Gallery!
Download Final tiles gallery →
4. FORMCRAFT
Premium WordPress Form Builder.
5. PAPER
Paper Grid is a content grid plugin for WordPress. It is extremely light weight, but it's also very flexible and powerfull, you can edit pretty much anything from the intuitive admin interface. You can use it to showcase your team, or your services and products or any other type of content.
6. BUZZCOMI
BuzzComi is fully responsive, simple, clean and mobile friendly coming soon / under construction / maintenance plugin with nice countdown timer, subscribe and contact forms. BuzzComi comes with power settings to help you fully customize your WordPress coming soon page.
7. WP SECURE
8. QUBEADMIN
Change the way you interact with WordPress' Administration Panel. Taking WordPress to a whole new level!
9. HASHTAG
Hashtag plugin for WordPress allows you to set up an integrated hashtag system for your website. You can easily add hashtag #word in your posts thanks to a new auto-complete system based on the # character and suggestions of other hashtags already existing in your content. On the site, the hashtag words will be highlighted with a customizable link. On click, the plugin filters all the sentence containing the hashtag and displays them with links and thumbnail to related posts.
9. FLATY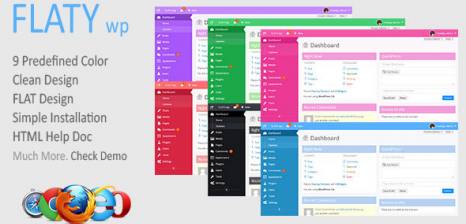 FLATY wp is new custom theme designed for the WordPress admin. This WordPress admin theme now gives you the ability to offer your customer and clients a completely new and customised dashboard.
10. PROGRESSIONPLAYER
Show off your work with this easy-to-customize and fully featured Audio/Video Player.
11. PINTEREST
Provide the complete solution to integrate your pinterest account with your wordpress . it displays pinterest boards and pins in your wordpress and update them automatically .
12. DISTINCTIVE
Create a portfolio of your works and display them in a variety of stylish ways with Distinctive Portfolio by Distinctive Themes.
13. INSTAGRAM PHOTO VIDEO GALLERY
This plugin allows you to show the last photos of an Instagram user or tag and comes with several options to configure and wigets ready for your sidebar!
Download Instagram photo video gallery →
14. AJAX STORE LOCATOR WORDPRESS
15. WORDPRESS MEET THE TEAM SHORTCODE PLUGIN
This plugin uses custom post type to manage your members and powered by shortcodes to show your team members beautifully on the frontend.It is perfectly design for team/staff page but you can perfectly use it on testimonials, portfolio or any kind of post type contents!
Download WordPress meet the team shortcode plugin →
16. DYNAMIC ADMIN THEME
Download Dynamic admin theme →
17. FIFTY FIFTY A VISUAL DIFF TOOL
Fifty Fifty by Inceptive Design Labs provides an easy way to highlight the differences between two images. It's a kind of a visual diff tool that creates a before and after effect in two images.
18. I AGREE
19. PIXGRIDDER PRO PAGE GRID COMPOSER FOR WORDPRESS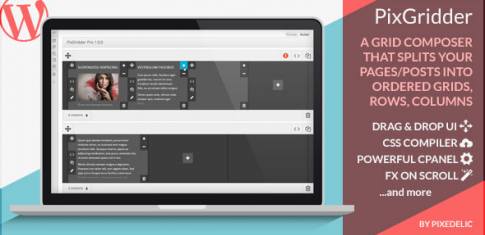 I prefer to define this plugin as a "grid builder" instead of a page builder, because a page builder is commonly intended as a tool that allows to create sections and, usually, comes with shortcodes such as tabs, accordions, particular sections, galleries etc… And, in many cases, all these shortcodes are not compatible with other similar plugins you prefer to use.PixGridder is instead very simple, because it only allows to split your page (or post or custom post, you can decide it) in rows and columns, simply by moving the functions available on your tinyMCE editor from the whole page to each column you decide to split your page in.
20. STRIPE LIGHTWEIGHT MENU PLUGIN FOR WORDPRESS
21. WP VISUAL GALLERY
22. REVOLUTION WORDPRESS AJAX LOADER
Are you looking for some WordPress themes that works on AJAX , to improve speed of site and decrease bandwidth consumption?
23. MEOREADER
The meoReader is an RSS feed reader plugin. It lets you subscribe to other web sites, single topics, or podcasts, or anything else that offers RSS feeds.You don't have to check all your favorite web sites over and over again, maybe not even remembering what articles you have already read.Instead you can read all this content from different sources in just one place – the meoReader.
24. WOOCOMMERCE PRODUCT LISTING
WooCommerce plugin that helps you create a page with all the Products of your web site, and let users buy multiple items, just from one page!
Download WooCommerce product listing →
25. HTML5 MINI MUSIC PLAYER
HTML5 Mini Music Player – WP Plugin it is useful player which very easy to use and looks very modern.
Download HTML5 mini music player →
26. WP WEB TOOL KIT
27. X FORMS
That's right!, all form submission you'll receive are submitted by humans and not robots! This is done without using Captha which is proved to annoy most users!The admin interface/panel is very easy to use. You can find all you need on one single screen, no jumping around to different pages to get things done! All forms and their settings are immediately accessible by a single click.
28. GOOLE MAP PRO
We have seen many google maps but it was always difficult to create map and put correct locations in it. Most of the visitors will be agree with me and hopefully you're also. We discussed lots and did 7 meetings on table with Paper & Pen and finally come to a solution to make it straight forward to users. You can add accurate locations using auto suggested text box and immediately you select a location, google map display marker on that location to make sure that's the exact location you're looking for. After that, you're able to choose your custom marker, if marker is draggable or not, Add multiple info windows message and save your location. Once you added all your required locations, You need to create your maps. Each map will have own shortcode which generated automatically and you just need to put that shortcode on your posts/pages.
29. CANVAS SHOW ANY CONTENT
30. TEMPLATERA TEMPLATE MANAGER FOR VISUAL COMPOSER
Templatera is powerful template manager for Visual Composer, it allows you to create, manage and set control access to your templates based on user roles or page post types.Ever wanted to take your designed templates to another site? Now you can. Import/export templates in few clicks.New "Templatera" content element allows you to place pre-build templates as an independent blocks on your pages.
31. POPUPPRESS POPUPS WITH LIGHTBOX SLIDER
32. TWITTERCARD
TwitterCard – Showcase your Twitter Profile – With TwitterCard you get an absolutely easy to use that enables you to add a beautiful Showcase of your Twitter Account / Profile to any Widget Area or to any Post or Page of your website.
33. WOOCOMMERCE CUSTOM T-SHIRT DESIGNER
This plugin is plugin which is used to design or customize T-shirts. Customer can design the t-shirt as per their need such as add Text, Number or Logo by different Font Types, Color, Font Size, Alignment and many more.
Download custom t-shirt designer →
34. SPEEDO POPUP LIGHTBOX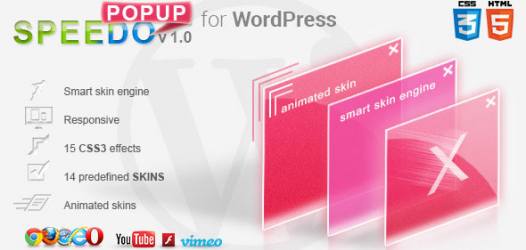 You can play videos, you can make a lightbox of videos and or mixed content or you can notify the user when you want, you have the possibility to do whatever you want.This popup has full compatibility for HTML5 and full fallback for older browsers.
Download Speedo popup lightbox →
35. WIP MEGA MENU
WIP Mega Menu is simple and easy to use to enhance your horizontal site menu. Comes with drag and drop admin system to build your mega menu layout and content, simple settings no "headache" 50+ options, and for developer you can extends features to fit what your client needs without touch the codes.
36. FACEBOOK COMMENT SLIDER
This fancy slider offer an opportunity for the users to leave comments about your website when they reach the bottom of the page or with a simple click on the Facebook icon. The comments will displayed for their friends and they will connect in.
Download Facebook comment slider →
37. 5,000+ VECTOR ICONS
38. MULTIPURPOSE
Want to showcase your case studies and demonstrate difference between original Vs. new image? This product can help you do that easily and effectively.Multipurpose Before After Slider plugin is designed to compare two different images, considering simplicity at it's core.
39. HELLO AJAX TABS WORDPRESS WIDGET
Download Hello ajax tabs wordpress widget →
40. THEIA STICKY SIDEBAR
Theia Sticky Sidebar for WordPress makes your existing sidebars sticky and permanently visible, regardless of their position and how much the user has scrolled down.
41. HTML5 VIDEO GALLERY
HTML5 Video Gallery with a cool 'Live playlist' feature could be used as video gallery, video player or any kind of video showcase. New layout includes Thumbnail Wall with optional Lightbox!Place multiple instances of video player in post, page, sidebar in text widget or theme.
Download HTML5 video gallery →
42. PRODESIGN RESPONSIVE INTERFACE SHORTCODE
ProDesign is a responsive manageable organisation of predesigned interface elements presented as shortcodes that can be used in any page/post or custom post types of any kind of WordPress theme. Every single shortcode has many options to be highly customizable and meet the spectatives adjusting to any site.
43. ORBITAL LOGIN REGISTER
Login brings entire user login / registration process to your website's frontend. Your users will no longer have to see WordPress admin backend in order to log in or edit their profile. In addition to that, Orbital Login gives your users an option to set their own password during registration and activate their account via e-mail.It's simple – just place following shortcodes on any of your pages:You can also choose to use Orbital Login Widget in your sidebar to let users log in / register from any page. The widget will display profile info for logged in users.Please keep in mind that even when using a widget – above shortcodes are still required (users will be directed to login page when following password reset link from e-mail).
44. FBAR
Suitable for web designers, web developers and all marketplace authors. If you are theme designer or developer and if you are sell your works on Envato, I think this very important for you. FBar WordPress plugin comes special overviews like; limitless color combinations, logo and favicon uploaders, enable or disable responsive mode, enable or disable purchase and remove iframe button, social media share buttons, limitless item demos and much more.
45. COMMENT SPARKER
Comment Sparker is a finely tuned plugin that serves as a highly efficient and customized comment generator for your blog or website. This groundbreaking tool is designed specifically to give your site's SEO and rankings a boost like no other can provide.
46. WORDPRESS SEO CALCULATOR
Download WordPress seo calculator →
47. SOCIAL GALLERY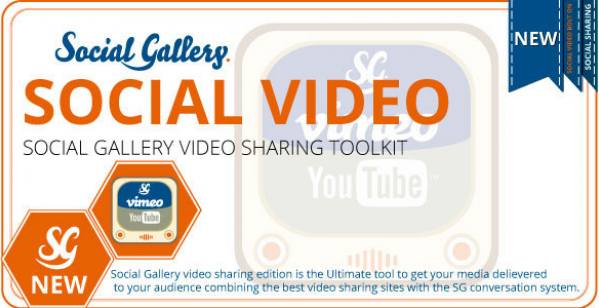 The latest from the Social Gallery team.Now let your users share and comment next to the videos you display on your site!! Turbo charge your users engagement.Are your users fully engaged with your websites images through the use of the Social Gallery WordPress Photo Viewer if so.. there's only one thing left for your users!!Your blog visitors already click your videos, usually these are embedded videos from YouTube or Vimeo, or a WordPress embed – but once they have watched your video (and if they played it, they probably like it!) then what?
48. INFINITE SLIDER
Slide by grabbing and dragging the whole slider10 – On mobile devices swipe the slider11 – Different theme options to set the style of the grid and the cover effect of unhighlighted thumbnails12 – Full wordpress integration to display the slider using your existing or newly added featured images and their post data.
49. DITTY RSS TICKER
This plugin requires Ditty News Ticker to be installed.Ditty RSS Ticker is a multi-functional RSS display plugin. Easily add multiple RSS feeds to your site either through shortcodes, direct functions, or in a custom Ditty News Ticker Widget.Create a dynamic display of unlimited RSS feeds on your site with a multitude of settings. Display feeds in a scroller, rotator, list, or widget.
50. WP POSTING FORM
51. LIGHT WP ADMIN
Color Schemes Each admin theme has 8 different colors schemes so you can choose one that matches your front-end design.If you want to use a different color or make changes you can using the custom css option included in the plugin.When creating this plugin we revived some old solutions and added new popular hacks.
52. ARQAM RETINA RESPONSIVE
53. WORDPRESS RESPONSIVE POSTS GALLERY
NW PostsCaptions is a multi-purpose widget for listing posts, whether you want to create a gallery of photos or want to display the latest posts from your blog, with NW PostsCaptions you can do this very easily.You can choose between posts to be displayed in a widget area of your theme or you can use shortcodes to display in any page you want.Being responsive your gallery is easily viewed on mobile devices and tablets.NW PostsCaptions is touchenabled so viewing captions is possible even on smartphones or tablets with a single tap.Use it and be AWESOME!Please find in the archive the folder named documentation, you have in that folder a file named index.html, double-click on it and read the documentation carefully.
Download responsive posts gallery →
54. ADVANCED RATING SHORTCODE
Allow you can single rating or multi rating display, can choose custom shape, custom color and custom size for display rating.
Download Advanced rating shortcode →
55. NICE NOTIFICATION
Design and compose your own alerts, notification bars, social bars, tweet rolls, and pretty much anything you like with awesome effects and an easy to edit drag-n-drop visual composer.Looks great on any screen size. While notification bars and fonts resize automatically for each screen size, you can still set each layer to be aligned to the right or left of the notification bar for even better responsiveness.
56. REBRAND ADMIN THEME MODERN FLAT UI
Inspired by the new iOS7 and combined with the Flat UI Design Trend we managed to develop a plugin that will change your WordPress Administration appearance totally!You can also remove any mention of WordPress from the admin bar or the footer area.
57. WP JOB HUNTER
The installation and the setup are super simple, you will get a brilliant responsive widget to you website within 5 minutes.
58. ULTIMATE PRO TEAM MANAGER
Ultimate Pro Team is a powerful and responsive Team Manager. Member List can be showed in every kind of page/post or custom post type with the shortcode manager, bringing you an easy way to maximize your current theme.
59. NEMUS
Nemus Slider is a powerful, yet simple and easy to use WordPress slider plugin. Great to create simple slideshows with photos, videos and HTML content.
60. 360°
61. EMMA
This plugin aims for displaying different types of content. Actually, you can choose which content do you want to display. Make some custom content and show them. Maybe the most interesting is the fact that is specially optimized for showing woocommerce content.
62. LIVE EVENT FEED
"Live Event Feed with Instagram" let's you to create live photo+video feeds from event places. Smartphone+Instagram app are enough to create live feed in your WP website.
63. 3D GALLERY
64. WOOCOMMERCE AJAX DROP DOWN
Even if you are a developer creating themes or you are just an owner of an ecommerce site using WooCommerce now you have the oportunity to offer an user friendly cart widget without much effort.
Download WooCommerce ajax drop down →
65. SOCIAL INVITATIONS
Allow your visitors to invite friends of their social networks such as Facebook,Twitter, Linkedin, Google, Yahoo, Hotmail, Foursquare and more directly into your WordPress site.
66. WP BEST RANKER
This simple RSS Aggregator makes sure that you can populate whatever RSS content you desire in any amount and on your schedule. You simply pick your category, set it on your schedule and let it run in the background by collecting relevant, fresh, up to date content from the web.You can put in an unlimited amount of different RSS feeds with different categories as you like, there is no limit on that.
67. HTML5 POSTER GENERATOR
Download HTML5 poster generator →
68. LIVICONS ANIMATED VECTOR ICONS
What are LivIcons? They are a cross browser vector icons, built with JavaScript, with individual mini animation for every icon (except 'Brand names' ones).
69. MODERN ADMIN FLAT
Modern Admin is flat-retina ready template. This comes with 4 color schemes, custom login form, configurable menu & dashboard icons.
70. WOOCOMMERCE SOCIAL LOGIN AND CHECKOUT PLUGIN
Social login fasten checkout process and enhances user experience and increases signups and conversion rate of your eCommerce shop.WooCommerce Social Login collects, compiles and store over 20 information about customers so you can analyze customers and find your target market.
Download social login and checkout plugin →
71. ENVATO SUPPORT FORUM
This plugin give you some more flexible solution. Allow any user to register into your forum BUT only verified buyer can ask for support. Setup new thread notification email for your staff, user can subscribe and unsubscribe into thread, easy to fully integrated with your custom theme.
72. REFER
Allows you to add a referral / affiliate type system to your site without the headache of payouts.
73. MEET THE TEAM
74. DOUBLE VIEWER
Double Viewer is an easy-driven and comfy app which allows you to compare two different images in one slider.
75. NON WP POP UP
Non Wp PopUp is a powerful, inline add-on for 'Ad Plus List Building PopUp'.
76. COOKIE LAW COMPLIANCE SCRIPT
Cookie Compliance is an EU law. Inform your visitors in an elegant manner.
77. TEAM SHOWCASE
You can display a set of pictures and information in different layouts. The main purpose of the plugin is to display team/staff members, but it can be used for other purposes.
78. GOOGLE DRIVE
79. WP NAV PLUS
WP Nav Plus is an improved version of the WordPress menu system, which adds the ability to specify a start depth when displaying your menu on your site.
80. PRODUCT COUNTDOWN
This is an easy Product Countdown WordPress for WooCommerce.
81. LIGHT SWITCH
The Light Switch add a light switch to any contents you want. Turning off the light will give a better look and visibility to your contents like videos and images, and will permit also a better reading of your textual posts.It will enhance the site contents vision to users.
82. HTML5 AUDIO PLAYER
A simple and powerful HTML5 music player for your website with flash backup for older browsers.
83. WP IMDB
WP IMDB is an innovation which offers users the ability to import automatically movie's information from IMDB.com the biggest movies database.This script can be used even by people who do not know PHP scripting or WordPress,having a very simple sistem it doesn't need to be configured.
84. FLIPBOOK
85. LIVE!
Likewise all other items on this marketplace you get lifetime updates of this item too.
86. RETINA PRESS WORDPRESS ADMIN THEME
Retina Press – The brand new retina display custom theme designed for the WordPress admin. This gives you the ability to offer your customer and clients a completely new and customised dashboard, setting you apart from the competition.

Janeth Kent
Licenciada en Bellas Artes y programadora por pasión. Cuando tengo un rato retoco fotos, edito vídeos y diseño cosas. El resto del tiempo escribo en MA-NO WEB DESIGN AND DEVELOPMENT.
Related Posts
It may seem strange to want to know how to multiply matrices in JavaScript. But we will see some examples where it is useful to know how to perform this…