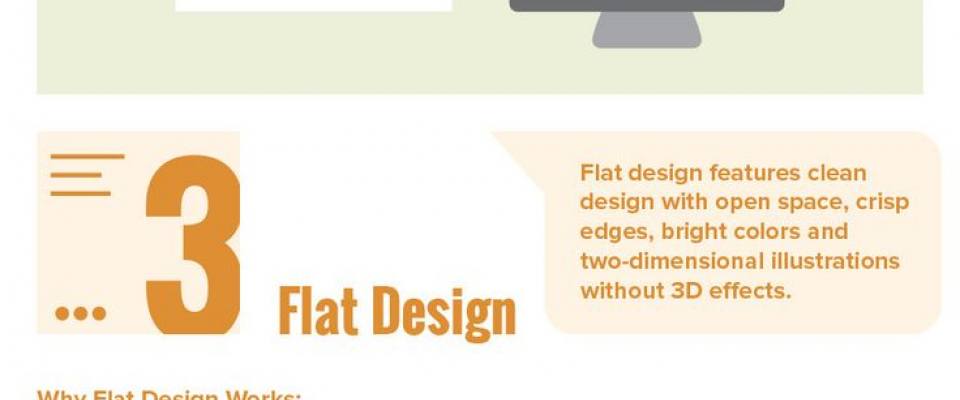 Bowenmedia wants to suggest us the biggest web design trends of 2015.
The following infographic highlights the main web design trends that differentiate a modern site from an older design.
1. Mobile focus
Mobile first is our "password". This approach presupposes that most of your potential customers have a mobile device.
2. Interactive scrolling
What we know: people do scroll. What we don't: they love it. Furthermore digital storytelling is about creating a unified experience that a smooth flow enhances. Interactive scrolling can be broken down into two significant web design trends: infinite scrolling and the parallax effect.
Infinite scrolling and parallax effect create a seamless browsing experience. The user explores the information with a sense of discovery, so he's more likely to stay on your site and read the full message.
3.Flat design
Flat design is the most identifiable hallmark of modern web design trends.
Flat design has no depth to any element so everything appears to be integrated into one surface. A popular variation is 'semi-flat' design. The 'almost flat' look often features gradients, semi-transparent panels and drop shadows. This creates a subtle distinction between the element and the background but there's no attempt at the old realism.
4.Single page
A single page also makes sense if you aim to guide the visitor through your content in a linear manner.
5. Clean simple layout
Of course, a clean simple layout combines the twin goals of achieving a fast loading time and a simple message for the visitor, so the user can focus on the essentials.


Janeth Kent
Licenciada en Bellas Artes y programadora por pasión. Cuando tengo un rato retoco fotos, edito vídeos y diseño cosas. El resto del tiempo escribo en MA-NO WEB DESIGN AND DEVELOPMENT.
Related Posts

In the world of Android smartphones, there exist numerous hidden codes that can unlock a treasure trove of functionalities and features. These codes, known as custom dialer codes, provide access…