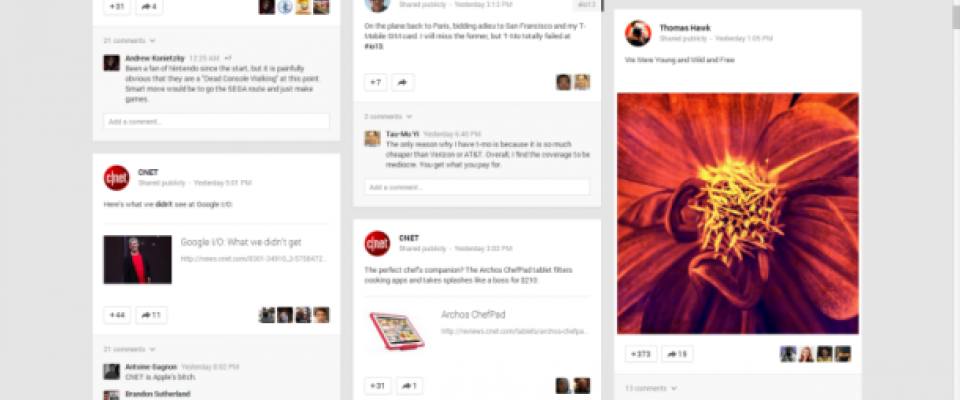 The new Google+ has many new features and a new look to its stream. We'll share some keyboard shortcuts and other tips to help you navigate it easier.
The redesigned Google+ has a plethora of new features, including a new look to its stream. Check out the tips below to help you get a head start navigating the new Google+ stream.
Keyboard shortcuts for G+:
j: next post
k: previous post
o: expand or collapse current post
n: next comment of current post
p: previous comment of current post
l: load new posts
/: search
?: show shortcuts list
left arrow: show list of pages
right arrow: hide list of pages
Display three columns. Most Web browsers will display the new multicolumn stream as two columns. However, you can actually go up to three columns by widening your browser's screen, as long as you have a display that supports a width of greater than 1,550 pixels.
Quickly return to the top. After scrolling down to view posts in your stream, you can quickly return to the top by clicking on any free space in the condensed menu bar.
Show Google bar, search box, circles, and so on. When scrolling down the stream, the Google bar, search box, profile photo, and circles disappear in favor of the condensed menu bar. To display those items again, you don't have to scroll all the way back to the top. Scrolling your mouse wheel up a few lines will redisplay the full menu. If you're using a touch pad, scroll up quickly to redisplay it.
That's it. If you happen to find any other cool navigation tips, please share them with us in the comments.

Janeth Kent
Licenciada en Bellas Artes y programadora por pasión. Cuando tengo un rato retoco fotos, edito vídeos y diseño cosas. El resto del tiempo escribo en MA-NO WEB DESIGN AND DEVELOPMENT.
Related Posts

Do you want to play your favorite Android games directly on your computer? If your answer is yes, you've come to the right place! In today's guide, I will explain…