Exploiting the Google Search Engine's Full Potential
Google – THE search engine for many internet users. It has been with us since its launch back in 1998 and thanks to its simplicity of use and genius algorithms, it grew so popular, that most of us cannot imagine our day-to-day life without it. Many petty arguments between friends caused by not being able to agree on trivial questions like who played Beetlejuice (Michael Keaton) or whether Fanta really was a Nazi drink (yes, kind of) are quickly set thanks to Google. Usually the correct answers and the sentence on who was wrong and who was right is delivered by Google.
We all got used to Google's omnipresence – after all, it is the global market leader among search engines. According to statcounter, in December of 2020, its worldwide market share reached 94,55% on mobile devices and 85,46% on desktop devices.
As you might already be aware, it is possible to do advanced search thanks to using search modifiers and operators like AND, OR,*, ~ or -. Here you can find a how to article on this topic. Then there is the special kind of search, on the verge of "hacking", where you use the so called Google dorks to obtain specially narrowed and many times interesting results – a comprehensive article on how to try this can be found here.
In this article, we are going to dig further into Google' s search engine features. Google is not limited to only listing relevant results when searching for a term, there is an impressive number of various useful features, some which are know between users more and some less. All it takes is to input the correct search term to discover these special search features. Here we offer you a list of some tricks you might add to your repertoire of googling skills.
Word definitions
If you stumble upon a word which significance is either unclear to you or you are curious and want to know more about its pronunciation, origins or usage over time Google has a feature for you. Simply add the word "define" or "definition" to your search term, like this:
"define robot" or "robot definition" and you can enjoy all the information Google supplies you with:
Word translations
This super handy feature allows you to quickly translate a word into the language you choose. Type for example "hello translate slovak" and you'll get: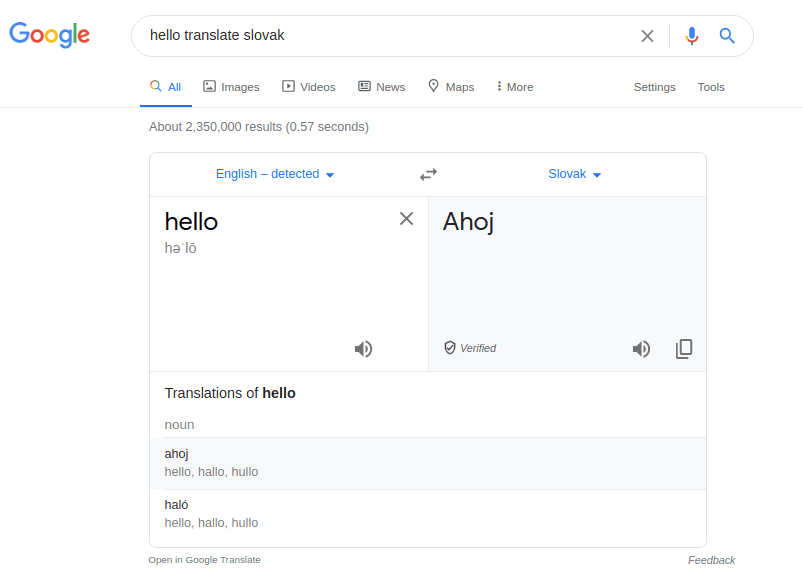 Flight status
In case you need to check the current status of a flight, enter the airline and flight number:
Calculator
By inputting a mathematical expression into the search box, you will invoke the Google search calculator. In addition to basic arithmetic operations, it offers also trigonometric and logarithmic functions, easy entry of Ludolf's or Euler's number, factorials and a history of your calculations.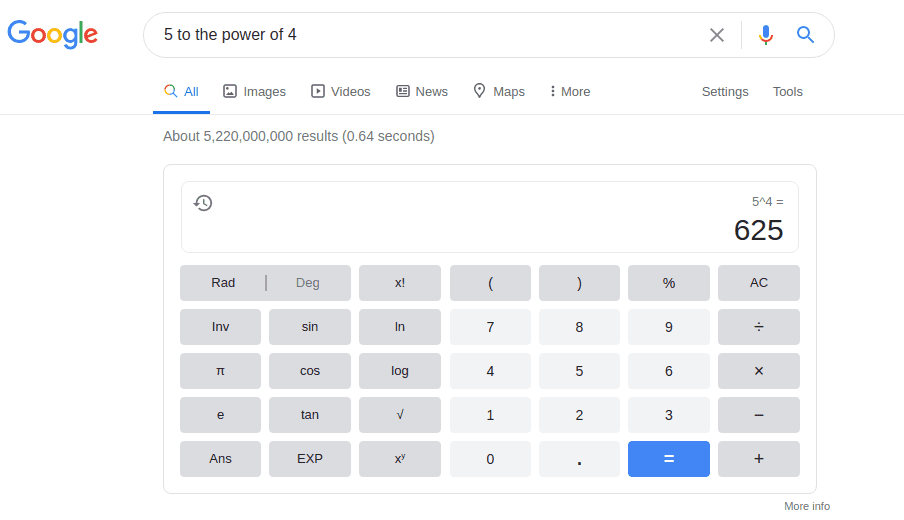 Interactive graph of mathematical functions
Similar to the calculator feature, you invoke this cool trick by searching for a mathematical function expression like for example y = cos(x). Then, Google shows you an interactive graph, in which you can easily read values using the mouse cursor. You can also scroll the graph and use the buttons in the upper left corner to zoom in and out. Whats more, it even allows you to compare two or more functions in one graph, you just need to search for them separated them with a comma - for example, y = sin (x), y = cos (x). According to the Google blog, their graph technology is capable of plotting trigonometric, exponential, logarithmic functions and their compositions.
Units, currency and cryptocurrency conversion
Another very useful feature. Try searching for any unit or currency that comes to your mind and convert it to another. For example, you can try 10 feet to meters or 500 pounds to kilogram. For the currency conversion, you just need to enter the amount and the name of the currency - for example, "2 bulgarian lev". By doing this, you will get Google to show you a simple interface where you can edit not only the amount entered, but also the default and target currency. There is also a graph of the course development for the last day, 5 days, month, year and 5 years. The same can be used for exotic currencies as well as cryptocurrencies. The source Google uses to get the conversion rates is Morningstar in case of currencies and Coinbase for cryptocurrencies.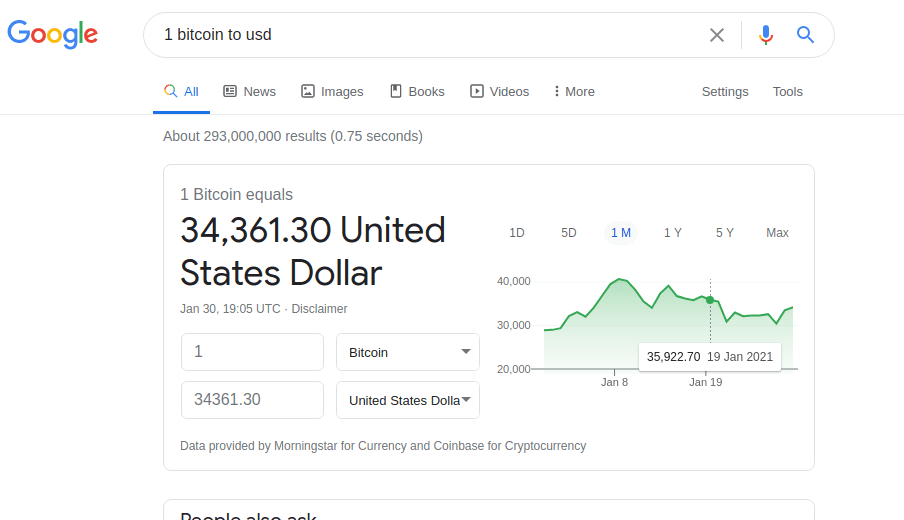 Stock market data
For finding out the current share price of a traded company, type its name and the word "stock" into the search bar. Example: "Google stock". Then you will be provided with the current stock value as well as graphs, showing developments in the last day, 5 days, month, half-year, year or five-year period.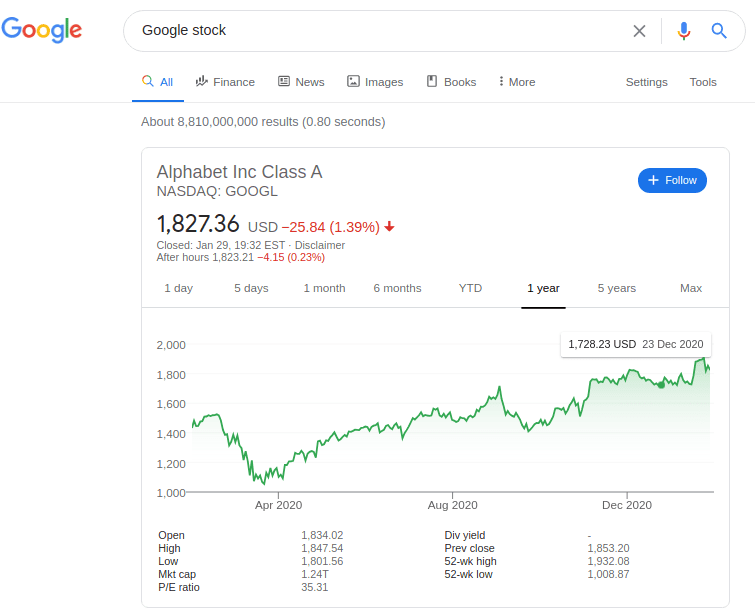 Weather forecast
Simply by typing "weather" into the search bar, you will be presented with a table showing the situation at your current location. In addition to the current status, a forecast for the next 24 hours is available. It also features information on expected development of temperature, precipitation and wind. This is, if the browser has access to location information. If it does not, add the location into the search bar. The source of information is weather.com - clicking on the link below the forecast will take you to a page with more details, including a forecast for the next four days.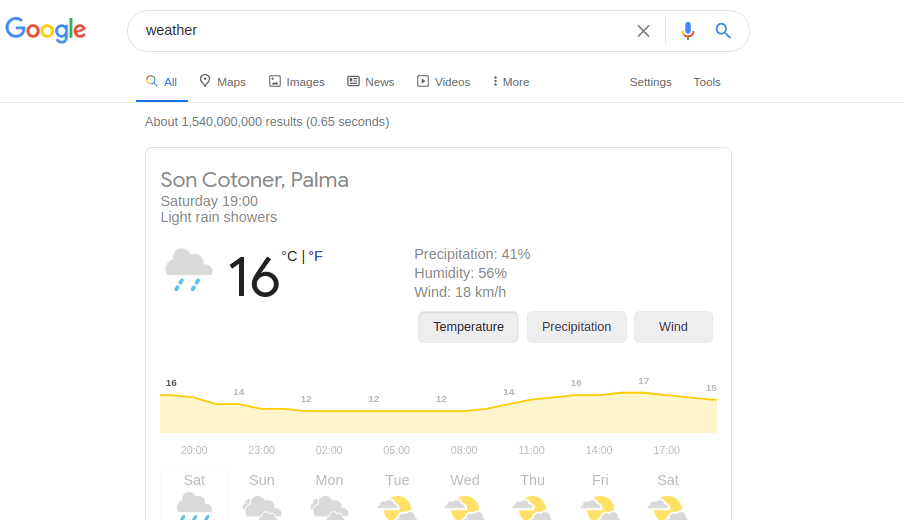 Sunrise and sunset time
Wondering when the sun is rising or setting? Google can also answer this question. Just enter the term sunrise or sunset (unfortunately you can't get both information at once). In this case, the data for the current location and day is displayed (if available). If you want to, you can also check the sunrise and sunset times for any date and any location, by searching for example "Palma de Mallorca sunrise 02/02".
Phone search – find my phone
This feature is incredibly handy when you are not sure where you left your Android device. It is only available if you have a working data connection and you need to sign in to the same Google account which is used on the device. Then, you might look for your device by typing "find my phone" in the search engine. If the connection to the phone is established, its location is shown on the map. If you have more than one phone, you can switch between them using the drop-down menu. You can ring the phone with the button – in this case it will ring even if it is in silent mode.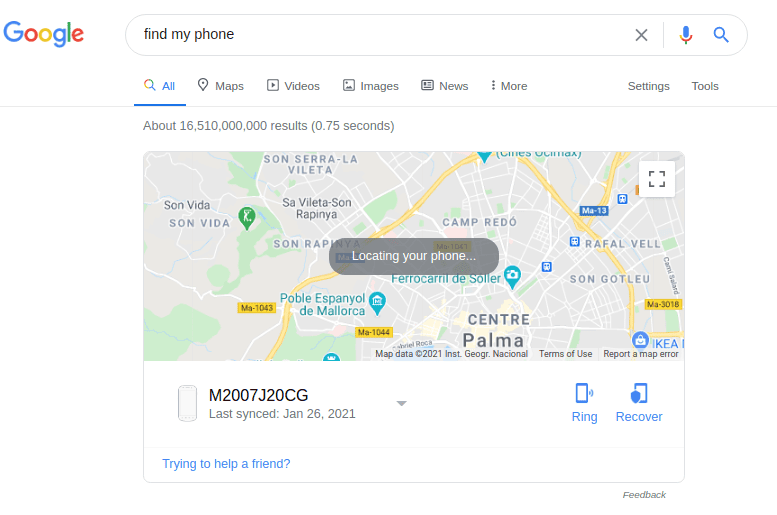 Flip a coin & roll a die
Cannot decide on who should choose this evening's movie to watch? Let Google disguised as faith help you with its flip a coin feature or roll a die feature. You activate it by typing "flip a coin" or "roll a die" respectively.
Color picker
This is a great tool for everybody in need to quickly obtain the hexadecimal or RGB values of a color. Inputting "colour picker" as well as "color picker" will do the trick.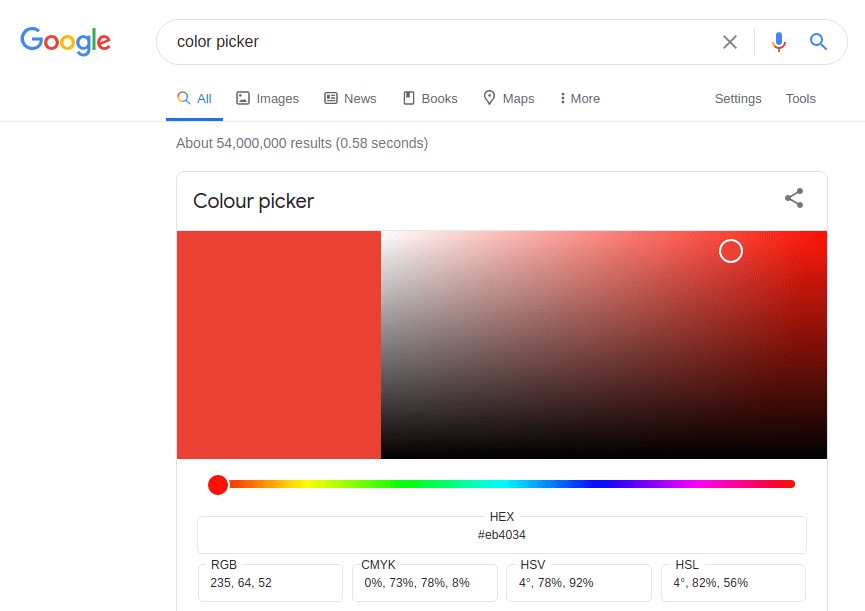 Other interesting features and tools
"what's my IP" - quickly get your IP address number.
"stopwatch" & "timer" – self-explanatory.
"RNG" – random number generator, which lets you choose the range from which the number should be chosen.
"what sound does a cat make" - just like the talking children's books, you'll get the noise the animal you searched for makes.
"breathing exercise" – Google aids you to do a simple breathing exercise by guiding your inhalations and exhalations.
"my flight status" or "my past flights" – if you are signed into the browser with your Google account, this search will show you all your upcoming flights or the flight you have taken in the past.
BONUS – games and Easter eggs
Search for "solitaire" or "minesweeper". Careful, you might end up not knowing where those hours went. (My personal favorite!)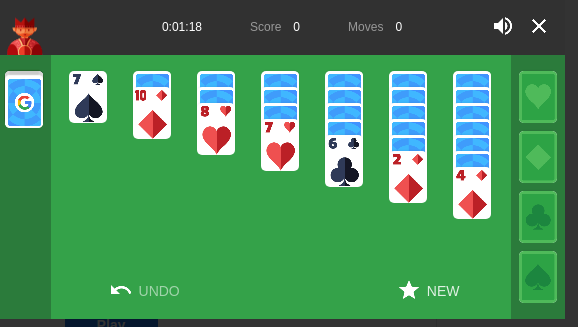 "Google in 1998" will result in a page resembling the appearance that Google had way back in 1998, when it first launched.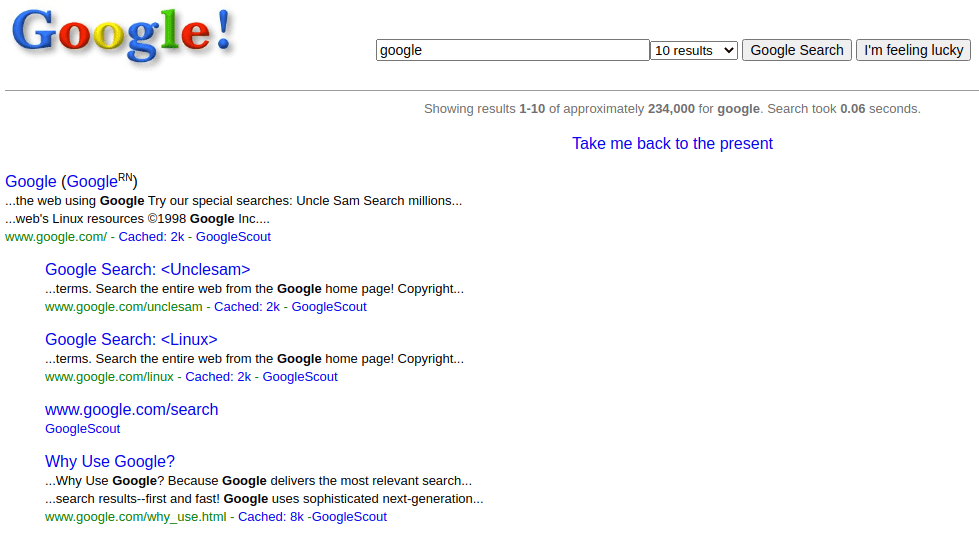 This feature is well hidden, so we could call it an ester egg. You need to search for "text adventure" and then open the browser's developer tools (F12), in the console tab, you'll find a text adventure game you can actually play!
Conclusion
Google search engine has become a powerful and incredibly useful tool in the everyday life of many internet users. The more we know about how to exploit its full potential, the easier our everyday tasks may get.
Image by Photo Mix at Pixabay.

Iveta Karailievova
Originally coming from a marketing background, decided to turn her life around and immerse herself into the wonderful exciting and most importantly – never boring world of technology and web development. Proud employee at MA-NO . Easily loses track of time when enjoying working on code. Big fan of Placebo, cats and pizza.
Related Posts

Do you want to play your favorite Android games directly on your computer? If your answer is yes, you've come to the right place! In today's guide, I will explain…