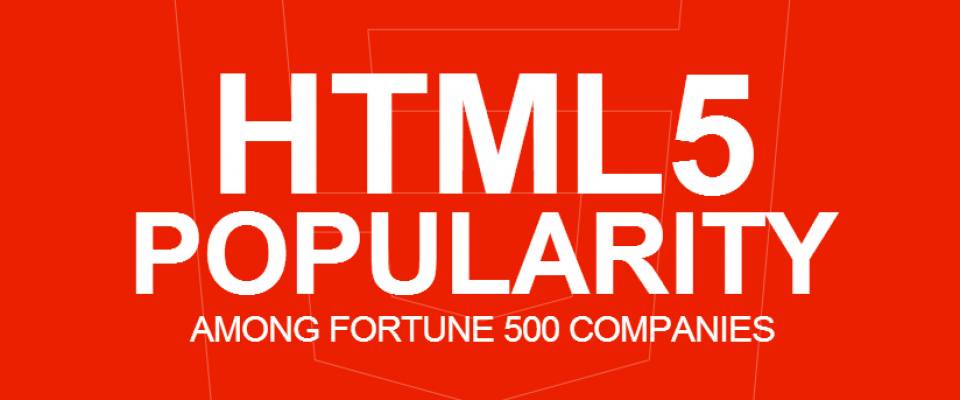 INCORE conducted research measuring how fast Fortune 500 companies are adapting to latest web standards. Among it's findings we learn that over 30% of Fortune 500 companies use the latest HTML doctype and that the readiness to invest in new technologies might correlate with companies' profitability.
Here's the results of the research:
DO FORTUNE 500 COMPANIES THAT EMBRACE HTML5 SEE BIGGER EARNINGS?
Corporations that want a functional, knockout website in today's mobile marketplace are increasingly doing so using HTML5. In fact, over 30% of Fortune 500 companies are taking advantage of all the markup language has to offer as of July this year.
HTML5 lets developers deliver in-browser experiences that previously required separate apps or additional software. It is especially useful because it supports video and geolocation services, and includes touch features among other benefits.
INCORE recently conducted research that leads to some interesting insights about how HTML5 is being adopted by these mega-companies and what the future holds for the success of the platform. The research was performed using the Worldwide Web Consortium (W3C) Markup Validation Service.
HTML5 IS GAINING, BUT NOT LEADING… YET
With 30.6% of all Fortune 500 companies using HTML5 and the standard not set to change, it's offering organizations a stable platform from which to launch their Web and mobile services. There are several types of HTML language; HTML5 is the most recent version.
We found that the most popular HTML used by Fortune 500 companies is XHTML 1.0 Transitional; 32.2% of the companies use the platform (it was released in 2000). The third most popular choice was HTML 4.01 Transitional, which 16.4% of Fortune 500 companies utilize.
HTML5 ADOPTION DEPENDS ON THE FIELD
What industries are embracing this technology the most as of July 2013? HTML5 is most widely implemented among building materials suppliers, computer software companies, beverage companies, entertainment outlets, airlines, packaging providers, network/communications equipment companies, and mutual property and casualty insurers.
Industries that weren't so keen on using HTML5 were in the outsourcing, publishing, and transportation and logistics fields, among a few others.
Time will tell if the number of Fortune 500 companies using HTML5 beats out those using XHTML 1.0 Traditional, but we see strong growth ahead for the language in order to meet the ever-changing demands of savvy technology users.
HTML5 LEADS TO BETTER PROFITABILITY?
XHTML 1.0 Transitional may be the most popular choice as of now among the 500 companies analyzed, but results indicate that those using HTML5 seem to bring in more revenue and profits.
Of the 153 Fortune 500 companies that use HTML5, they generated a higher average revenue than 161 companies using XHTML 1.0 Transitional, though those companies earned the highest revenue overall. Companies using HTML5 had an average revenue of $27,088,888,889 and an average profit of $2,159,867,974, while those using XHTML 1.0 Transitional had an average revenue of $21,681,987,578 and an average profit of $1,099,666,460.
The infographic:
HTML5 Popularity Among Fortune 500 Companies - An infographic by the team at INCORE Web Design
source: http://www.incore.com
Fortune 500 companies' information based on money.cnn.com

Janeth Kent
Licenciada en Bellas Artes y programadora por pasión. Cuando tengo un rato retoco fotos, edito vídeos y diseño cosas. El resto del tiempo escribo en MA-NO WEB DESIGN AND DEVELOPMENT.
Related Posts

HTML5 Canvas is a technology that allows developers to generate real-time graphics and animations using JavaScript. It provides a blank canvas on which graphical elements, such as lines, shapes, images…