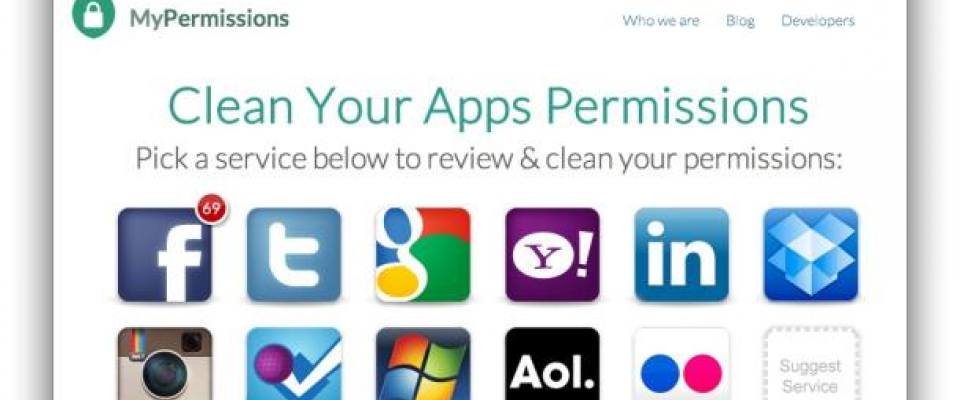 With MyPermissions app, you can review and remove permissions of apps accessing Facebook, Twitter, Google and your personal information on other online accounts.
With this free app for iPhone or for Android, you can keep track of the apps that have access to your various online profiles, including Facebook, Twitter, Google, Yahoo, Dropbox, Instagram, Foursquare, and Flickr.
The app acts as a convenient dashboard to monitor and control which apps have access to your accounts.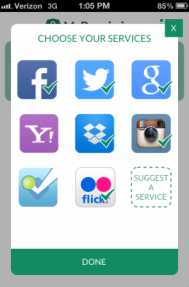 To check the permissions of one of your accounts, you create an account on MyPermission and then login.
On the app's FAQ page, MyPermission's team states : "we do not save any personally identifiable information, nor do we save your credentials or passwords."
In fact, all the app is doing is passing your off to the permissions page of each of your online accounts. Sometimes this results in a less-than-ideal page layout on an iPhone (Twitter, for example), but it's still easy to go down the list and approve or revoke the permission of the apps accessing that account.
With MyPermission you receive alerts when a new app begins accessing one of your accounts.
For each account, you'll see two buttons: Apps and Alerts. Click on the Apps button to go to the permissions page of a given account to see all of apps that have been granted permission to access it. Click on the Alerts button to get a pop-up window within the MyPermissions app to see the apps you've yet to review.
If the entire list looks good, you'll find a convenient Trust All button.
For other online services beyond the eight the mobile app supports, check out the MyPermissions Web site, where you can scan Windows Live, LinkedIn, and more.
original source:cnet.com

Janeth Kent
Licenciada en Bellas Artes y programadora por pasión. Cuando tengo un rato retoco fotos, edito vídeos y diseño cosas. El resto del tiempo escribo en MA-NO WEB DESIGN AND DEVELOPMENT.
Related Posts

You recently experienced one of the most epic concerts in recent years and now you're in the process of showing the videos you recorded to friends and family who, unfortunately,…