Sometimes you want to use your iPhone to create compelling, engaging marketing visuals, and as awesome as Canva is, many of us are interested in seeing what other options are out there.
As all marketers know, consistent branding is a must for any company (or even individual) who wants to stand out. In a survey conducted by Venngage, marketers reported that the kind of content that most helped them achieve their marketing goals was original graphics.
This list of Canva alternatives will provide iOS-friendly options for marketers who want to easily create compelling visual assets, no matter what your design level is. These apps all work perfectly on the go, so you can use them from the comfort of your home, while travelling, or anywhere else you need to get your marketing work done.
Option 1: Adobe Spark Post
Adobe Spark Post is one of the simplest alternatives to Canva. This app allows you to add text and filters to pretty much any image or icon you choose.
For experienced marketers, Spark Post is straightforward to pick up. For beginners, because it comes stocked with several templates and galleries of images, it's easy to get inspired for your next internet-breaking social media graphic. When I used it to create this cat-focused graphic, Spark Post suggested several color palettes I could use to make the graphic my own.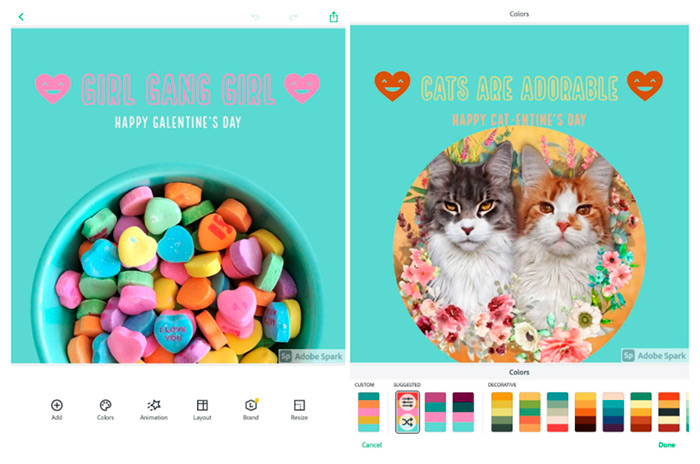 You can get it for free with the Starter Plan, but Adobe Spark Post also offers a few paid options with extra features. Their Individual Plan comes with premium templates and images, along with the ability to brand and personalize projects more easily for $10/month, while the Business Plan allows you and your team to consolidate licenses and access 24/7 support if you need.
Option 2: Lightricks Boosted
Boosted Ad Maker by Lightricks helps marketers produce stunning graphics, which makes it a great alternative to Canva for any attention-grabbing content you'd like to post. This app gives you the ability to create social media-ready videos with templates, audio options, fonts, filters, and every other bit of media you could want to help make your branded content stand out.
The app is intuitive and user-friendly, operating by touch and swipe. The templates make it simple to put together a visual quickly, while the ability to add in your own original content lets you get creative with their tools in just a few taps.
I was able to easily select an image and add some text from the font library in under a minute. The great option about Boosted is that you can choose to preview premium content, so you can really get a taste of what's on offer.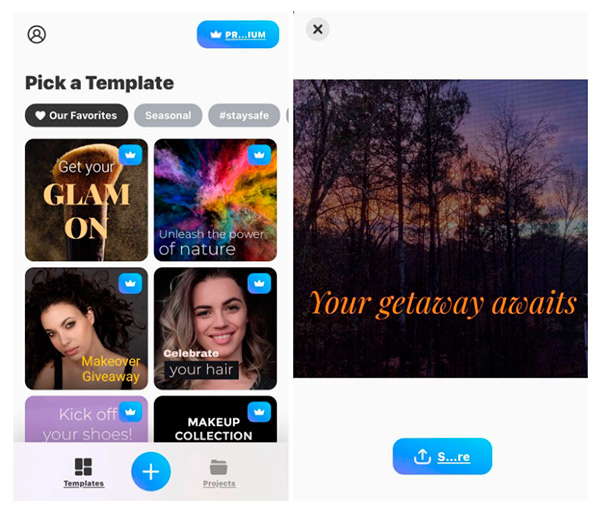 The app is free to download for iOS, but offers the ability to upgrade to Boosted Premium to get access to all the templates stored in the app for $6.99/month, as well as 50% off professional stock images from Getty Images.
Option 3: Word Swag
Word Swag automatically places and sizes text on your photos. This is perfect for marketers who easily come up with what to say, but want to know how best to place those quotes, words, or phrases on the icon or photo itself. The app gives you several text placement options so you can select the one that suits your brand best.
The app is straightforward for anyone to use – all you have to do to start is type in the quote or phrase you've chosen, and pair it with an image or background you like. It even prompts you with a selection of quotes if you're drawing a blank, like I was. The options of fonts make it a great fit for your social media presence, no matter what your business is.
Plus, because these placements are being generated freshly per upload, rather than relying on templates, you can be sure that your graphic is unique. Word Swag guided me to create this visual within about five minutes, including plenty of time for experimentation.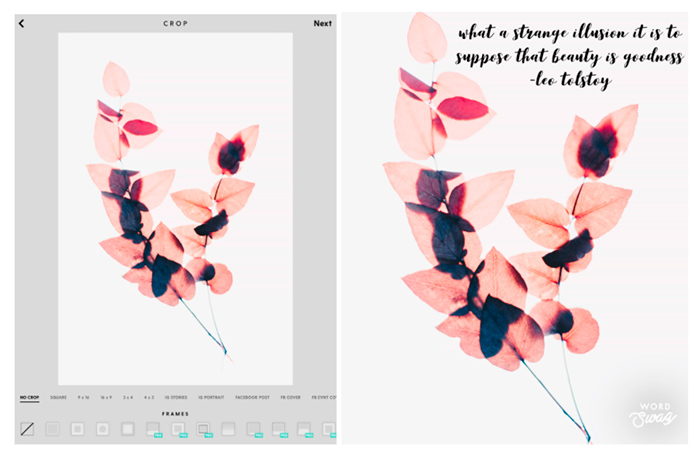 The app is free to download for iOS, but you have the option of a paid subscription of $4.99 per month. This option comes with tools geared for professionals, such as removing the watermark, downloading hi-res images, and uploading a custom color.
Option 4: Over
Over lets you create images, videos and logos for social media. Over's strength is in its rich gallery of templates, layouts and graphics that make it a speedy process to design and create eye-grabbing visuals. It's typically used to create videos, posters, flyers, and logos for brands.
The app is easy to manage as the main purpose is simply to add text and icons to images. You can choose a pre-built template or go totally custom with your own images and structures. Then, choose from the font library to make your social media content pop. I created a simple logo by choosing an existing option and modifying it by making use of the available options for icons and font choices.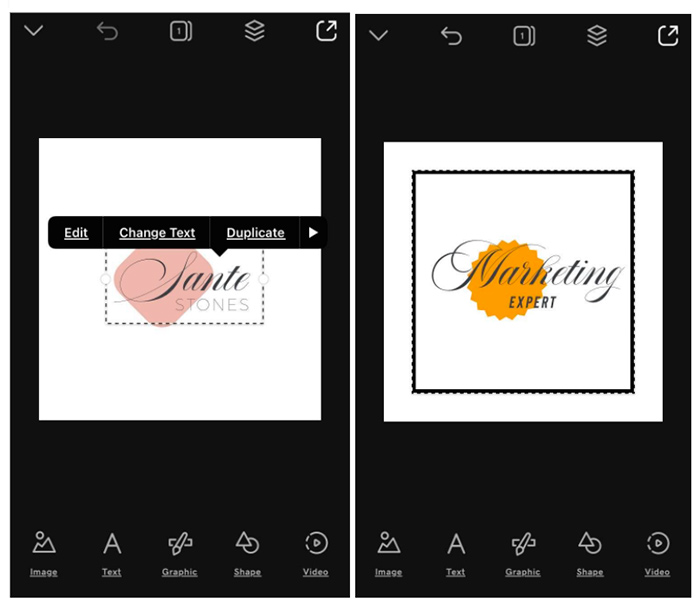 The app is free to download for iOS, but it also offers Over PRO for a fee of $14.99/month or $99 when billed annually.
Option 5: Crello
Like Over, Crello is built to help you design both images and videos. While Over's selling point is its logo-making ability, Crello shines in access – all photos, icons, templates, and stock videos are freely accessible for anyone who downloads the iPhone app. It also comes with a few handy tools that are perfect for a social media marketing campaign, such as the ability to resize your designs.
The app is organized by category - you can select a template based on the type of content you're creating, such as a Facebook ad or an Instagram story. From there, you can mix and match your own original content and designs with their library of pre-made templates and galleries to create a stand-out post in just a few minutes.
I transformed one of the templates they gave me within about ten minutes. The only downsides are that it wasn't possible to search for images – users have to scroll until they see something they like.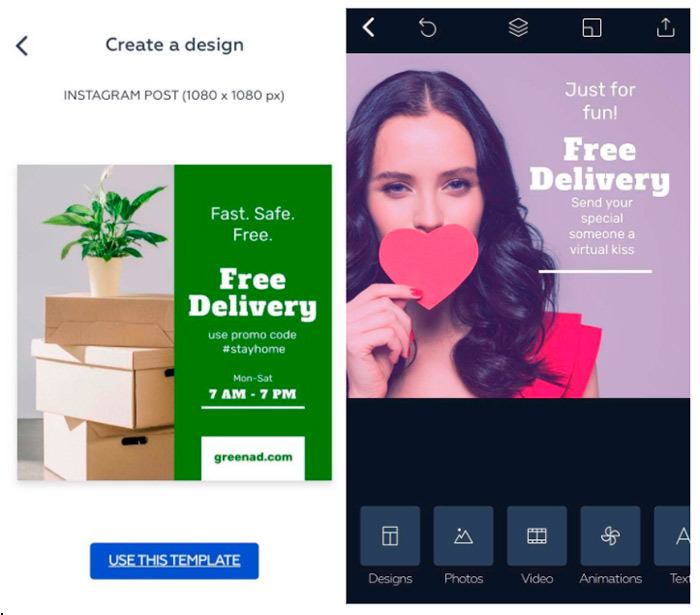 As mentioned above, it's free to download and use. However, the free version only allows you to download five monthly designs. The paid version costs $7.99/month and comes with some bonus features, such as the ability to remove backgrounds and add team members to work collaboratively.
Conclusion
With so many options for marketing visuals, this guide should walk you through the pros, cons, and costs of each app. All are great at what they do. Over is the best logo designer, while Boosted stands out when it comes to creating video content. Crello, meanwhile, is best for accessing a huge library of media, while Word Swag is perfect for those text-focused posts. Lastly, Adobe Spark Post is jack-of-all trades with decent functionality across all types of social media marketing needs.
No matter what your marketing needs, this list will provide you with a great iOS alternative to Canva.
ma-no.org may include links to commercial websites. A commercial website is defined as a business site designed to generate income through the provision of services and products. Where links to commercial sites are included on ma-no.org, this does not indicate or imply any affiliation or endorsement between that commercial entity and Us
Main image source: https://www.pexels.com/photo/person-holding-space-gray-iphone-6-17663/

Janeth Kent
Licenciada en Bellas Artes y programadora por pasión. Cuando tengo un rato retoco fotos, edito vídeos y diseño cosas. El resto del tiempo escribo en MA-NO WEB DESIGN AND DEVELOPMENT.
Related Posts

APIs serve as intermediaries between software, allowing them to communicate with each other and perform various functions like data sharing or processing. APIs provide the protocols, definitions, tools, and other…