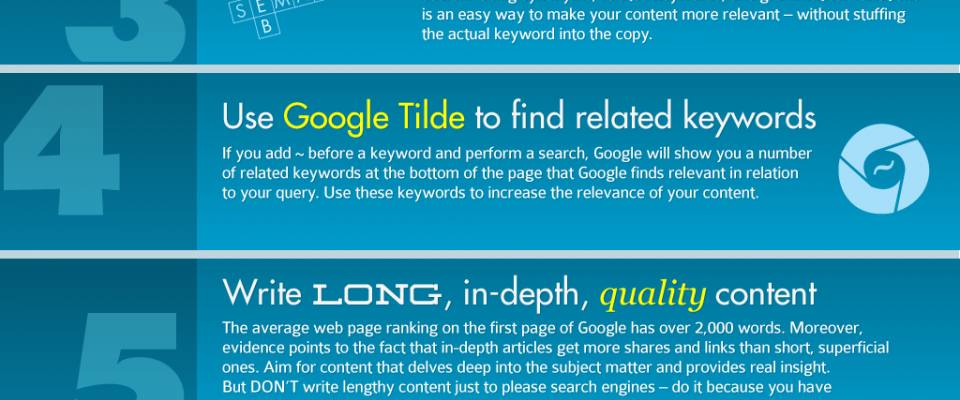 There are many schools of thought as to how best to optimize a website for top keyword placements in search engine results. The concept of search engine optimization is basically a science, but like most sciences, there is no definitive "right" answer, just a series of practices that tend to work in most circumstances..
Due to frequent updates in Google algorithm, some of the old tactics don't give result anymore. Furthermore , it is quite difficult to keep an eye on what really does work. So to help you out, the team at contentverve.com designed a cool infographic on SEO Copywriting in 2013 - how to write content that ranks well in search engines.
Let's see how the infographic illustrate the concept:
Most Important Aspects of SEO in 2013
Write for humans - optimize for robots
It's 2013 - nobody wants to read SEO content, not even the search engines! So focus on your target audience and help the robots find your content.

Forget about keyword density - once and for all
Keyword density is one of the most tenacious SEO myths out there. It's important to use relevant keywords in your copy, but use them thoughtfully.

Use related keywords, synonyms and grammatical variations
Google and other search engines use Latent Semantic Indexing (LSI) to match search results to the intentions of the person performing the search. So, the use of synonyms, related keywords, and grammatical variations is an easy way to make your content more relevant.

Use the Google Tilde to find related keywords
If you add the Google tilde (~ ) before a keyword and perform a search, Google will show you a number of related keywords at the bottom of the page that Google finds relevant in relation to your query. Use these keywords to increase the relevance of your content.
Write long, in-depth, quality content
It's true: in-depth articles get more shares an links that short, superficial ones.
Take advantage of the long tail
Usually big keywords are super competitive and ranking for them demands a huge effort. In many cases there are lots of related searches that are much easier to rank for example "landing page" vs. "how long should a landing page be?" long tail phrases have a smaller search volume, however the traffic quality will be higher.
Answer your prospects questions
If your users have questions about your product or service, they'll probably write those same questions into Google. So give your users with content that delivers credible answers. Give them better answers than your competitors, and potencial clients buy from you. Additionally, answering questions is a great way of taking advantage of the long tail.

Get your content noticed and shared
Shares your content! Via relevant forums, blogs, influencers, communities, newsletter, groups, and the usual suspects like Facebook, Twitter, Google+, LinkedIn, Pinterest etc. And think on the incredible power of guest blogging!

Get down with Google plus
Google+ now, has a big role in SEO. Furthermore, the introduction of Author Rank means that Google will start connecting ranking factors to individual authors, so let's setup you G+ profile, add your authorship markup, claim ownership of tour content, build AuthorRank, and play an active role.

Title tags and snippets are still king
The title tag is one of the first things Google looks at when categorizing an individual web page. The combination of title tag and "snippet" (meta description) is what your users are going to see in SERPs.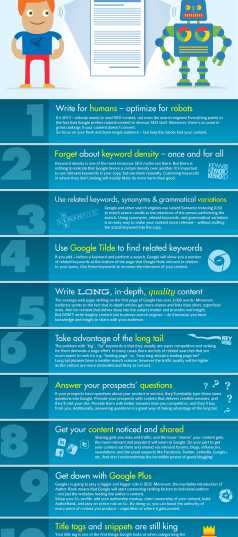 Janeth Kent
Licenciada en Bellas Artes y programadora por pasión. Cuando tengo un rato retoco fotos, edito vídeos y diseño cosas. El resto del tiempo escribo en MA-NO WEB DESIGN AND DEVELOPMENT.
Related Posts
Our daily lives now include social media, and businesses have realised its potential for engaging and interacting with the target audiences. Social media not only makes it easier to communicate…