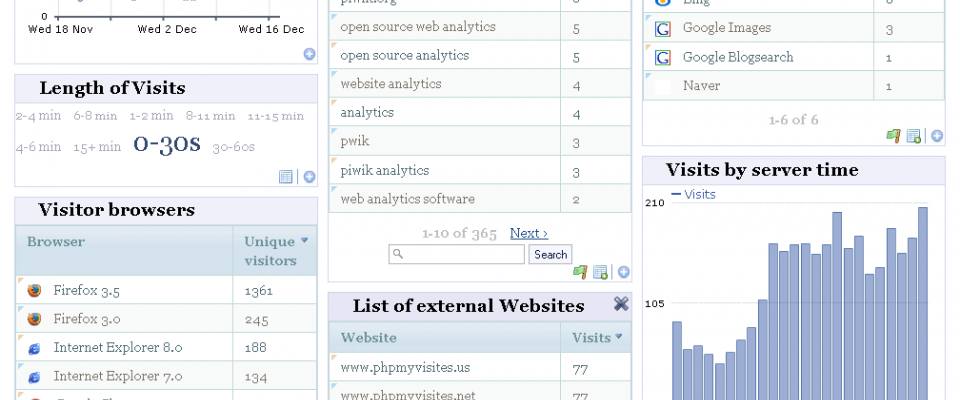 Lately I had a little problem with Google Analytics. Live results wasn't counting perfectly the number of live users online. Obviously, I am a little disappointed about it, and basically, the amount of time to research a solution or alternative would make the original content stale. Now, i want to explore the possibility to use other tools, and i've found a list of various free web analytics tools that you can use as an alternative to Google Analytics.
First, let's get some basics covered. According to Wikipedia, web analytics is "the measurement, collection, analysis and reporting of internet data for purposes of understanding and optimizing web usage." To make that a little more clear, we collect data from our users in order to optimize web pages to generate more revenue or pageviews. There is also a professional association for web analytics that is backed by some major players in industry.
Below is the list of the free web analytics services that I found so far. If you know of other solutions that are not mentioned or I have miscategorized something, please let me know in the comments and I will try to update this post in the near future.Remote Hosted Services
Lastly, there are the hosted services similar to Google Analytics. Hosted packages typically require you to include a few lines of simple JavaScript code in all of your pages. In the hosted services, they will capture the data so all of your traffic information will be in the service provider's database on the service provider's server.
Clicky - Real-time data, but only free under 3000 daily pageviews. For most bloggers, 90,000 pageviews per month is a huge number, so that limit is not a huge deal.
eXTReMe Tracking – The free offering provides very simple analytics without any advanced functionality like segmentation. They have a paid version as well.
FoxMetrics – In addition to real-time standard page tracking, this tool is based on event tracking which allows you to track almost anything on your pages. There is very little information available besides the home page.
GoStats – This is one of the freemium packages. The free version gives you that visible hit counter. The premium version an hide the hit counter and give you some simple analytics.
IceRocket Blog Tracker – IceRocket is best known for blog search, but they have a nice, simple, and free analytics package. Like some of the more complete packages, Blog Tracker includes referrers, search keywords and geolocation reports.
UPDATE* Koego – This is a different type of service. It has basic web analytics, but it also includes some good social information. It is more blog focused than most tools, but it is hard to find from the home page. (Many thanks to April for sending me info.)
Reinvigorate – This offers real-time tracking, a nice visual design of the reporting and a desktop client. They are in a private beta and there is not enough documentation to figure out how deep the analytics features are.
Site Meter – This is a freemium service that is fairly well known. The free version gives mostly basic statistics and requires a site counter to appear on your pages. They have several premium tiers based on traffic.
stat24 – This is a freemium service, like a few others. However, the free version is very limited. There are a few premium tiers based on traffic that are not too expensive.
StatCounter – A fairly simple free product, unless you have more than 250,000 page views. Be aware that they consider themselves a web page counter, and do not mention analytics on their site even though they do provide what is considered basic web analytics.
Woopra – A freemium service that captures real-time data and offers a desktop client. This is one of the few desktop clients available. It is free up to 30,000 monthly pageviews, but it only maintains 3 months of historical data in the free version.
Yahoo! Web Analytics – This is Yahoo's offering of their IndexTools acquisition and provides real-time data and some advanced reporting capabilities. Obviously, you need a Yahoo account to use it.
Self Hosted Software
Self hosted software packages require more technical knowledge because you need to install and configure everything. This would include creating the database tables, installing the server software and modifying your pages to track statistics. You also need to be aware that analytics data can get large fairly quickly so you may need to purchase some extra disk space.
FireStats – Trac is free for non-commercial usage, but their restrictions on commercial use are vague enough that most bloggers would require one.
Grape Web Statistics – Another free and open source tool, and this is one of the newer tools available with v0.2 beta 2 recently released.
Open Web Analytics – An open source, PHP-based solution. It also has built-in support for WordPress and MediaWiki.
Piwik – Another open source tool that "aims to be an open source alternative to Google Analytics". Probably the most mature open source package.
SlimStat – This has recently been rewritten to be faster and smaller than previous versions. It also has an XML API.
TraceWatch – Another free and self-hosted platform. It does not seem to have segmentation, but it does have path analysis which is typically not available in free tools.
Other tools that you may have heard of that I did not list for some reason:
Log File Analyzers
Log file analyzers are the original analytics tools and summarize activity based on the http web logs. These tools are limited to whatever data is contained within the log files. If you are looking to capture more advanced analytics or analytics for ecommerce (which requires custom tracking), you will need to look at the other software and services that are available.
Analog – Their own description says it best: "The most popular logfile analyser in the world. Combined with Report Magic, you can generate even prettier reports.
AWStats – This is one of the oldest products available. If you have a hosted web site, you are likely using this in some way.
Deep Log Analyzer – This is a freemium tool that has a solid set of basic reports. The free version does not include custom reporting or report exports.
GoingUp – Free log file analysis tool and a whole bunch of other tools. They seem to focus more on SEO tools.
JAWStats – Free and open source companion to AWStats. AWStats gives you excellent data and JAWStats gives you pretty reports.
W3Perl – This is a free tool that works with FTP, Squid and Mail servers in addition to the standard web server analysis.
Webalizer – This has been around for years. It is for more technically savvy users, but they do provide a "simpletons guide to web server analysis."
WebLog Expert – This is a freemium package for log analysis. The free Lite version provides only basic reporting with no customization.

Janeth Kent
Licenciada en Bellas Artes y programadora por pasión. Cuando tengo un rato retoco fotos, edito vídeos y diseño cosas. El resto del tiempo escribo en MA-NO WEB DESIGN AND DEVELOPMENT.
Related Posts
If you have created a website, I am sure your end objective is to create a strong brand presence, boost engagement, and multiply revenue. An interesting statistic showed that there were…