Lately we have been on a constant lookout for good RSS readers to find and share rich content for our users. RSS is a great way to keep in the loop of news, because it updates as soon as your favorite news sites update, and you get your news as soon as it is published, but there are hundreds of choices in terms of how you want the feeds to be presented – and that's where the different RSS readers come in.
Here's a review of 9 ot the best free online RSS readers online. This list will help you pick the best RSS reader to suit your needs, so you can enjoy your RSS feeds the way you want them.
Feedly is an online RSS reader with a clutter-free user interface. It has an Add Content feature which aids you in quickly finding new content sources to subscribe to. Though Feedly is free to use as-is, it does have a paid subscription plan that costs $5 a month. The paid plan unlocks some more features such as integration with web apps like Evernote and Dropbox.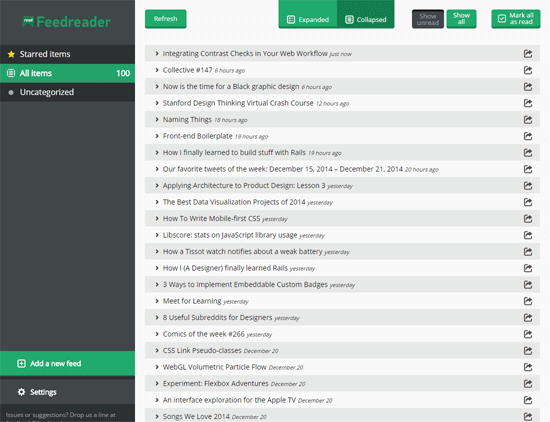 Feedreader Online is a simple and free RSS reader. It has two types of viewing modes, a feature called Starred Items for saving RSS feed items, and a filter for displaying unread items. In my opinion, these are truly the only features you need for a good RSS reading experience.
Good News aggregates all your content sources in one place. This means you can read your RSS, favorite sites, and social media in a centralized way. It has a total of 12 alternative viewing modes for your convenience.
FlowReader is what you'd get if you combined RSS and social media. It's a great option for people who want to see all their content sources in one place.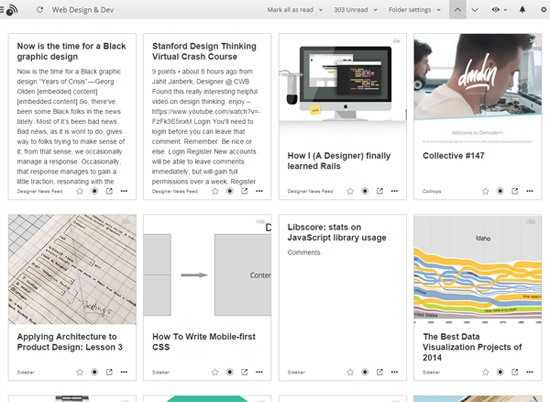 Inoreader is a feature-rich RSS reader that has a ton of configurable options. For example, it lets you craft custom rules that will perform actions such as "Send to email" or "Send to Instapaper". It has four view modes and four UI themes. Beyond Inoreader's free subscription plan, it has paid subscription plans that start at $2.99 a month.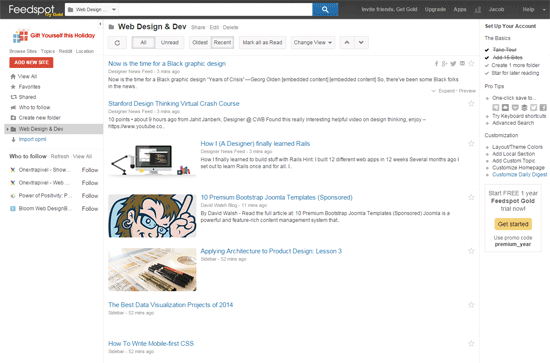 Feedspot is a free RSS reader with an integrated search feature that allows you to search your content sources. It can recommend sites to subscribe to based on your interests. Feedspot has a paid subscription plan that costs $24 a year, and it gives you an advertisement-free experience.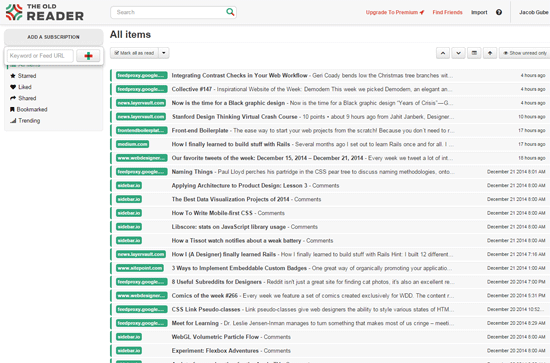 The Old Reader has all the features you expect from a good RSS reader: Keyboard shortcuts, various viewing modes, all that good stuff. If you are migrating from Google Reader or any other RSS software that can export subscriptions to OPML file, you can use the 'Import' feature to add all your feeds, the program migrate all your feed folders to ensure that you feel yourself at home immediately. The platform has also an integrated social network: You can connect with other users and share content with each other. The Old Reader is free for up to 100 subscriptions, or you can upgrade to a premium subscription plan that costs $5 a month.
Summary
Some people need a more comprehensive web-content-reading experience. Our suggestions for all-in-one content readers are FlowReader and Good News.
If you're worried about privacy, you can host your own RSS reader using the free and open-source CommaFeed.

Janeth Kent
Licenciada en Bellas Artes y programadora por pasión. Cuando tengo un rato retoco fotos, edito vídeos y diseño cosas. El resto del tiempo escribo en MA-NO WEB DESIGN AND DEVELOPMENT.
Related Posts


Even if most of the tech experts actively claim that RSS (Rich Site Summary) is dead especially after Google Reader was discontinued 5 years ago but it isn't yet as…