Today at its WWDC event in San Francisco, Apple made several key product announcements, they previewed an updated Mac Pro line of desktop computers. The device is cylindrical in shape. The new models will support up to a 12 core Xeon processor from Intel, while its DDR RAM will run up to 1866MHz. The Flash storage for the device will read at a rate of 1.25 GPBs, which is 10x faster than any older Mac Pro drive. The computer will come with dual workstation GPUs, support up to four 4K displays simultaneously and all external expansion will be supported via 20 GBps Thunderbolt 2. THe new device takes up just 1/8th of the space of the old Mac Pro.
In addition, a new MacBook Air has been announced. The latest models will feature all-day battery life, fourth generation Intel Core processors with faster graphics, 802.11ac Wi-Fi, and flash storage that is up to 45% faster than the previous generation of MacBook Airs.Eleven-inch models will feature twice the storage and start as low as $1,099. Thirteen-inch models will also be made available.
The thin and light design features dual microphones, a FaceTime HD camera, high-speed Thunderbolt port and two USB 3.0 ports, the new line also supports dual displays and video mirroring while simultaneously supporting full native resolution on the built-in display.
The new MacBook Air will ship with OS X Mountain Lion with built-in iCloud, Messages, Notification Center, system-wide Sharing, AirPlay Mirroring, Dictation, Game Center and Gatekeeper security.
One of the biggest announcements of the event, however, was the Apple's new competitor to Pandora, Spotify, Rdio, Xbox Music, and Google Play. iTunes Radio is a free service that works on iOS, Mac, and Apple TV, and features full integration with Siri (for example, you can command her to "Play Jazz Radio"). The free version features text and audio ads; though, if you're an iTunes Match subscriber (for $24.99 per year), the service is completely ad-free. The service boasts 200 stations to choose from, along with track skipping, saved stations, and intelligent customization to cater more to your tastes with each use.
You can also share stations with friends, or start a new station based on a song of your choice.iTunes Radio launches this fall in the U.S., with other regions to follow shortly thereafter.
And now here we go to the star of the keynote: iOS7:
Apple today unveiled iOS 7, the most significant iOS update since the original iPhone, featuring a new skinny and flat user interface.
iOS 7 is completely redesigned with subtle motion, an elegant color palette and distinct, functional layers that make it feel more alive. The typography has been refined for a cleaner, simpler look, and the use of translucency and motion makes even simple tasks more engaging. iOS 7 has hundreds of great new features, including Control Center, Notification Center, improved Multitasking, AirDrop, enhanced Photos, Safari, Siri and introduces iTunes Radio, a free Internet radio service based on the music you listen to on iTunes.
Some screenshots: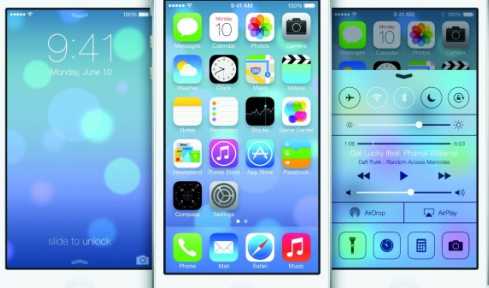 iOS 7 introduces Control Center. Now the controls you want to access quickly are all in one convenient place. With just one swipe from the bottom of your screen, you have access to controls for Airplane Mode, Wi-Fi, Bluetooth or Do Not Disturb, and the ability to adjust screen brightness, pause or play a song, jump to the next track and stream your music with AirPlay. Control Center also gives you instant access to apps such as Clock, Camera, Calculator and the Flashlight.
With iOS 7, Notification Center is now available from the Lock screen so you can see all your notifications with a simple swipe, and the new Today feature in Notification Center gives you an at-a-glance view of your day with a summary of the important details such as weather, traffic, meetings and events.
With improved Multitasking in iOS 7, developers have the ability to enable any app to multitask in the background with a new API. Users have the ability to switch between their apps in a more visual and intuitive way, and iOS 7 pays attention to which apps you use most and automatically keeps your content up to date in the background.
Give us your opinion about iOS7

Janeth Kent
Licenciada en Bellas Artes y programadora por pasión. Cuando tengo un rato retoco fotos, edito vídeos y diseño cosas. El resto del tiempo escribo en MA-NO WEB DESIGN AND DEVELOPMENT.
Related Posts

There has always been a belief that the Apple MacOS Operating System could only be installed on computers sold directly by Apple. But on the Internet there is a large…