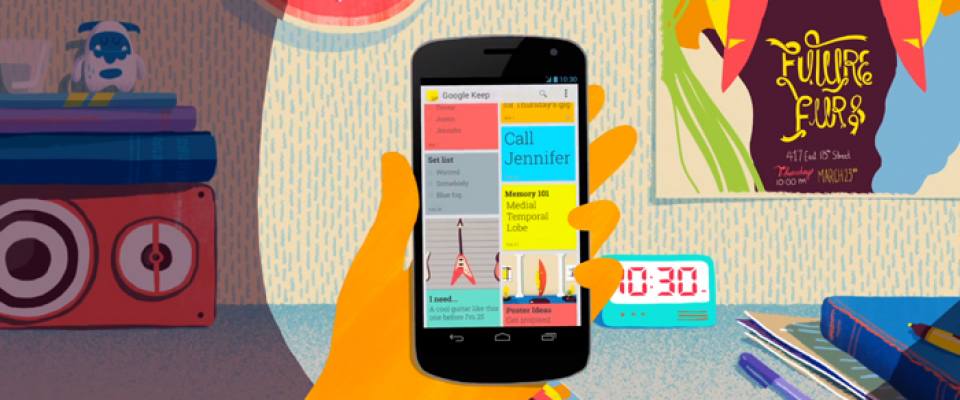 Google just launched a new service: Keep
by Janeth Kent Date: 11-04-2013
Google just launched a new notes service called "Keep." It works kind of like Evernote or Apple's Notes, allowing Android users to jot down thoughts or reminders, which they can store on their phone or access through Google Drive.
It looks pretty useful, judging by the official blog post announcing the launch, although we haven't had a chance to try it out. Google says Keep will also save checklists and photos.
Of course, as several wits have already noted, some fans of another useful Google service are feeling kind of burned these days – ever since the Internet giant announced plans to discontinue Reader, the RSS-enabled site that let users track updates from all their favorite blogs and websites.
Keep organizes everything in a colorful tile interface. Each one shows you a preview of each note, whether it's a photo, a to-do list, a single task, a saved webpage or whatever else. You can organize each to re-prioritize as needed, and you can add new notes with your voice. A Keep widget on your home screen can make adding notes really simple and straightforward. You can even add new items through the web via Google Drive (indirectly at the moment, but directly in the coming weeks). It's kind of like their version of Springpad (or a combination of Evernote and Pinterist).
Keep is available now for free on the Play Store, so go check it out.
Google Keep (Free) | Google Play Store via Google Official Blog
GOOGLE KEEP PRESENTATION
by Janeth Kent Date: 11-04-2013 hits : 3347

Janeth Kent
Licenciada en Bellas Artes y programadora por pasión. Cuando tengo un rato retoco fotos, edito vídeos y diseño cosas. El resto del tiempo escribo en MA-NO WEB DESIGN AND DEVELOPMENT.