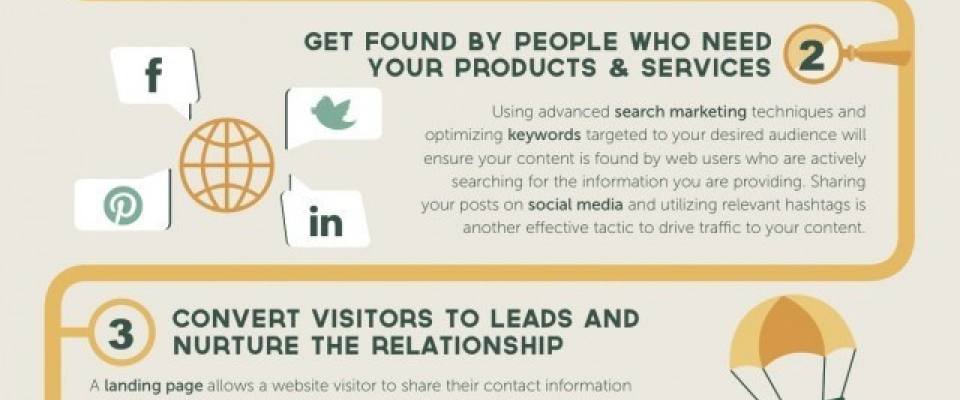 Coined by Brian Halligan in 2005, Inbound Marketing is a word used to describe creating and sharing content made specifically for your dream customer.
Inbound marketing is different from outbound marketing. Think of it this way:
Outbound marketing uses interruptive marketing techniques such as:
Trade Shows
Seminars
Television Commercials
Print Advertisements
Telemarketers
Inbound marketing is more permission based marketing and uses techniques such as:
Content Marketing: you create targeted content that answers your customer's basic questions and needs, and you share that content far and wide.
Search Marketing
Video Production and Optimization
Lifecycle Marketing: you recognize that people go through stages as they interact with your company, and that each stage requires different marketing actions.
Social Media
Integration: your publishing and analytics tools all work together like a well-oiled machine, allowing you to focus on publishing the right content in the right place at the right time.
As you can notice inbound marketing techniques tend to find consumers when they are researching information to make a purchase. They are more open to the message because you are not interrupting what they are doing, so they are willing to listen to what you have to say.
By creating this type of content and share it, you naturally attract ideal users qualified for your product or services.
The Whole Brain Group, which breaks down Inbound Marketing in 5 easy steps.
Here the infographic [click to enlarge].
Inbound Marketing? 5 Steps to Increase traffic and convert leads into customers

Step 1: Create Compelling Content For All Stages Of The Buying Cycle.
The first step in any marketing campaign is attracting customers to your business. Attract your ideal customer by creating unique and informative content specifically tailored for them on numerous different online platforms- blog posts, whitepapers, Facebook, Linkedin and so on.
Step 2: Get Found By People Who Need Your Products and Services.
Make it easy for your future customers to find you by being active on all major social networks and optimizing your website by using industry related keywords. To help boost your website's SEO (Search Engine Optimization) to be easily found by potential clients, we created this free guide on SEO just for you. Check it out!
Step 3: Convert Visitors Into Leads and Nurture The Relationship.
Now that your small business is easily found online, you don't want to miss any opportunity to turn online visitors into customers! Capitalize on every interaction by making sure all of your content includes a landing page or a call to action. If you need a bit of inspiration in this area, take a look at these 20 call to action resources we highly recommend using.
Step 4: Turn Qualified Leads Into Customers.
Just like your content, your landing pages and call to actions (otherwise known as CTAS) should be tailored to your ideal customer- which means the leads you receive from these have a higher chance of being a qualified customer. Now your beginning to see the magic of Inbound Marketing, eh?
Step 5: Analyze and Adjust Your Marketing Tactics
The success of your Inbound Marketing strategy depends on more than just understand how and why it works. Once you've implemented an Inbound Marketing strategy, keep an eye on what tactics are working, whats not, and adjust accordingly.

Janeth Kent
Licenciada en Bellas Artes y programadora por pasión. Cuando tengo un rato retoco fotos, edito vídeos y diseño cosas. El resto del tiempo escribo en MA-NO WEB DESIGN AND DEVELOPMENT.
Related Posts
In recent years, the digital advertising industry has been undergoing significant transformations. One of the most impactful changes is the impending demise of third-party cookies, which could potentially diminish marketing…